Podcast: Download (Duration: 2:21:03 — 61.5MB)
Watch The X22 Report On Video
The green new deal is not working on the people, the people are finding out that it will not benefit them. The Biden admin is now becoming desperate they are blaming fuel prices on the heat. Trump setup the [CB]/[WEF], the tax cuts will expire and Biden the rest will be exposed, the economic truth is coming. The [DS] is going after Trump with everything they have. Think about they chose the most corrupt prosecutor who does not follow the rule of law who had cases overturned by the Supreme Court. Trump truthed out Dr. Jan Halper Hayes who confirms the Space Force has all the evidence. Trump didn't want a civil war, he is waking the people up so the people have the ability to fight back. Trump ended the occupation and exposed the entire system. The 2024 election will show the [DS] once and for all who has the people and who is in control.
---
Economy
Biden Admin Reduces Savings Estimate For Americans Switching Away From Gas Stoves: Industry Group 
The U.S. Department of Energy (DOE) is receiving criticism for its updated data analysis regarding the agency's proposed regulations on gas stoves, which now projects even lower savings for consumers than the already meager numbers.
The new data shows that "savings are even less than DOE originally projected and are almost negligible," the industry group Association of Home Appliance Manufacturers (AHAM) said about the changes in an Aug. 3 press release. "DOE's original proposal was to save consumers 13 cents per month in utility costs over the life of gas cooking products. The revised data reduces consumer savings to just 9 cents per month," it pointed out.
"The changes in energy savings projected by DOE primarily result from DOE recognizing that the currently available cooking products are more efficient than its earlier analysis assumed."
At 9 cents a month, the projected savings will come to just $1.08 per year. Over a decade, that amounts to $10.80 in savings.
In order to counter the Biden admin's push to restrict gas stoves, a bipartisan group of lawmakers introduced the "Save Our Gas Stoves" Act in the Senate in June
The Act explicitly prohibits the DOE from implementing the energy efficiency standards for gas stoves proposed in February or any similar rule.
"This bill places limits on energy conservation standards for kitchen ranges or ovens under the Energy Policy and Conservation Act. The Department of Energy (DOE) may not prescribe or amend energy conservation standards for kitchen ranges or ovens if they would result in the unavailability of a product on account of the type of fuel the range or oven uses," according to the bill summary.
The legislation was introduced in the Senate by Senator Joe Manchin (D-W.Va.), Chairman of the U.S. Senate Energy and Natural Resources Committee. In the House, Rep. Lesko introduced the companion legislation. It passed the House by a vote of 249-181.
"The federal government has no business telling Americans how to cook their dinner," said Mr. Manchin, according to a June 14 press release.
 
Source: zerohedge.com
According to King, the summer's extreme heat is behind the rise in fuel prices, leaving economists around the world wondering why they didn't think of that first.
"Have you noticed a recent surge in gas prices this summer? Join the club. You're not alone. The national average price of a gallon of regular is now $3.83. That's about thirty cents more than it was just a month ago. One big factor might surprise you. It seems this summer's Extreme Heat is playing a role," King claimed on a recent broadcast.
Source: thegatewaypundit.com
The price of BACON has TRIPLED since June. Bidenomics!
The Biden administration's promise to 'forgive' student loans as a part of his attempt to mobilize youth voters ahead of the 2024 election has run into more legal hurdles.
A pair of think tanks have implored a federal court to halt the Biden administration's revised proposal to forgive $39 billion in student debt, contending that such an initiative is beyond the purview of the administration.
The New Civil Liberties Alliance, representing both the free market-oriented Mackinac Center for Public Policy and the libertarian-leaning Cato Institute, initiated the lawsuit in Michigan on Friday.
These organizations claim that the administration has overreached its constitutional authority by declaring a student loan forgiveness scheme for 800,000 borrowers totaling $39 billion. This program was put forth by the Department of Education shortly after the Supreme Court invalidated a more expansive student loan forgiveness strategy pursued by President Biden.
Source: beckernews.com
Big Banks in Britain Have Shut Nearly One Million Accounts over Past Four Years
Big banks in the United Kingdom have shut down nearly a million accounts over the past four years, a paper revealed amid the ongoing scandal of Brexit leader Nigel Farage being debanked for his political opinions.
A report from the Mail on Sunday revealed that banks are on pace to set a record number of closures this year, with 200,000 accounts having already been closed since the start of the year, This puts the banks on pace to top the number seen last year, which stood at 343,350, a Freedom of Information request to the Financial Conduct Authority (FCA) revealed.
In total, nearly one million accounts have been closed over the past four years, alone. However, the paper noted that this figure may be underestimating the true scale of account closures, given that it only reflects accounts closed over concerns of financial crimes, and therefore would not include cases like that of Nigel Farage, who had his Coutts account shut because the bankers determined that he did "not align" with the bank's values.
In response to the Farage revelations, Prime Minister Rishi Sunak's government is preparing legislation to be introduced in the autumn that would mandate that banks give at least a 90-day warning to customers before their accounts are closed and provide a reason for the decision, except for instances when doing so would hinder a police investigation.
However, others have called on the government to go further, with the founder of the campaign group Fairer Finance telling the MoS: "I think the legislation should go further and limit banks to closing accounts only when there is clear evidence of criminal activity."
Source: breitbart.com
The US is now spending 44% of GDP per year, the same levels as World War 2.

In 2020, the US spent a record breaking 54% of GDP in one year.

This is what Fitch meant by "fiscal deterioration" when they downgraded the US credit rating.

Current government spending is… pic.twitter.com/6836KopXrr

— The Kobeissi Letter (@KobeissiLetter) August 6, 2023
is unsustainable. We are now spending a higher percentage of GDP than what was seen in 2008. What's the game plan here?
PayPal is launching its own stablecoin: PayPalUSD (PYUSD). The company says the cryptocurrency token is "fully backed by U.S. dollar deposits" and can be bought or sold on PayPal's app or website at $1.00 per PYUSD.
With PYUSD, you can make person-to-person payments, fund purchases with the currency at checkouts, and transfer PYUSD between PayPal and other outside wallets. PayPal says that you can also convert the currencies supported by PayPal to and from PYUSD as well.
Stablecoins take their name from the fact that they're centralized and backed by existing government-supported currencies like the US dollar or the Euro. The US government is still hashing out how to regulate stablecoin and other forms of cryptocurrency. After all, stablecoins aren't always that stable, as we saw with the collapse of Tether and TerraUSD.
Source: theverge.com
🇩🇪 German bakery accepting #Bitcoin 🙌
pic.twitter.com/7r5Gfq5Li6

— Bitcoin Magazine (@BitcoinMagazine) August 7, 2023
Central Banks bought a record amount of #gold in 1H half 2023. No surprise as Fitch's downgrade US debt may accelerate de-dollarisation as USD held as reserves fell to 58% lowest level in 25 yrs. China's gold reserves have grown by 165 tonnes – and 103T was bought in 2023 alone. pic.twitter.com/aAsRwXq7xR

— Mario Stifano (@Mario_Stifano) August 6, 2023
 Austria's leader is proposing to enshrine in the country's constitution a right to use cash, which remains more popular in the Alpine nation than in many other places.
Chancellor Karl Nehammer said in a statement on Friday that "more and more people are concerned that cash could be restricted as a means of payment in Austria." His office said that the "uncertainty" is fueled by contradictory information and reports.
"People in Austria have a right to cash," Nehammer said.
While payments by card and electronic methods have become increasingly dominant in many European countries, Austria and neighboring Germany remain relatively attached to cash. The government says 47 billion euros ($51 billion) per year are withdrawn from ATMs in Austria, a country of about 9.1 million people.
Protecting cash against supposed threats has been a demand of the far-right opposition 

Freedom Party

, which has led polls in Austria in recent months. The country's next election is due in 2024.

 
Source: ap.com
I will ask Congress to make the Trump tax cuts permanent. – President @realDonaldTrump
---
Political/Rights
Meghan Rapinoe misses by a mile to eliminate the US Women's team at the World Cup.
President Donald Trump and Joe Biden have both weighed in on the woke U.S. Women's soccer team's humiliating loss to Sweden and unsurprisingly had completely different takes.
Megan Rapinoe played a key role in the defeat after she missed her penalty shot by a mile.
Trump responded by mocking her miss and their behavior throughout the tournament. Notice how he also manages to get a shot in at Biden for destroying America.
Biden, unsurprisingly, had a different take. He said he was proud of the national team despite their embarrassing performance and their un-American actions throughout the tournament.
Not surprisingly, Twitter users completely destroyed Biden in response. Some even brought up arguably the worst moment of his presidency: the disastrous 2021 Afghanistan withdrawal. Biden has the blood of 13 brave American soldiers on his hands thanks to his decision to pull out in the middle of the Taliban fighting season.
Hey look..a failure congratulated a bunch of failures. 😂

— J. C. 🇺🇸 (@therealarmyvet) August 6, 2023
You BOTH are a disgrace to America… They deserved to lose for the horrible behavior not respecting our flag…

— BarbReilly 🇺🇸🇺🇸- AMERICA FIRST (@BarbReilly7) August 6, 2023
They needed more dudes on the team!

— JT Lewis (@thejtlewis) August 6, 2023
Only in Biden's America is a loss a 'win'.

Anyone remember the 2021 Afghanistan withdrawal? What a 'win' that was.

— Selvarin (@selvarin) August 6, 2023
— I Meme Therefore I Am 🇺🇸 (@ImMeme0) August 6, 2023
— Paul Hookem 🇺🇸 (@PaulHook_em) August 6, 2023
Stunning and brave! pic.twitter.com/ggjBqGESUQ

— 🇺🇸Hakim🇺🇸 (@kareemjeanjr) August 6, 2023
This is like calling your Afghanistan withdrawal a success.

— Prison Mitch (@MidnightMitch) August 6, 2023
— Citizen Free Press (@CitizenFreePres) August 7, 2023
Most interesting parts of this Tablet article on Obama:

1) Obama's apparently Biden's puppeteer

2) Obama wrote a letter to a girlfriend "about how he repeatedly fantasizes about making love to men."

3) Obama lying about why his relationship ended w/ a white girlfriend

4) His…

— Tom Elliott (@tomselliott) August 3, 2023
4) His biographer says, "He's not normal—as in not a normal politician or a normal human being."
5) "Barack is actually just as insecure as Trump … Barack doesn't want to be close with people who are his equals. None of the people who are ostensibly his best friends are anywhere close to his equal."
6) "Barack once said to him that the only two things he wanted were a valet and an airplane."
7) "So why should Obama, the ultimate winner, carry on the charade that he's part of a community, whatever that means, with these people [from Ivy League schools]? He's happy to go on NPR and talk about meaning or Marilynne Robinson novels or whatever, to make the wine moms identify with him, so he can put one over on them. Just don't ask him to visit the hospital when you get cancer, because he'll be hanging out on someone's yacht, with the other winners." Everyone should read this. It's so damn good.
Importantly, the article confirms: 1. Obamacare is a "fraud." 2. Obama's presidency was a failure, especially on foreign policy. 3. Obama resented Israel deeply. 4. Obama is often a cold, empty person. 5. Obama represented a new elite cohort that punishes dissent ruthlessly (2/3)

— Joel Pollak (@joelpollak) August 4, 2023
I agree, Sound of Freedom should return the $501.
When will Harvard return the $9,100,000.00 donated to it by Jeffrey Epstein?
---
Geopolitical/Police State
The House Weaponization Committee sent a letter to Imran Ahmed and the Center For Countering Digital Hate  to turn over documents related to their investigation of government collusion with tech giants and others in their quest to silence conservative and independent voices in America today.
The Center for Countering Digital Hate is a far-left group based in Britain led by Imran Ahmed. The sole purpose of the organization is to harass internet advertisers from posting ads on conservative websites in order to silence conservative voices and put them out of business.
The House @Weaponization committee has sent a target letter to @Imi_Ahmed his fake nonprofit Center on Countering Digital Hate to turn over documents.https://t.co/dYeJTkz1c3 pic.twitter.com/fNWLeeSA01

— Paul D. Thacker (@thackerpd) August 3, 2023
Source: thegatewaypundit.com 
THE FACEBOOK FILES PART 4. FBI LIED ABOUT MEETING WITH BIG TECH REGARDING NY POST'S HUNTER BIDEN LAPTOP STORY

Internal FB docs reveal that an FBI Special Agent made false statements in testimony about the FBI's role in the suppression of the Hunter Biden laptop story

🧵 Thread:

— Rep. Jim Jordan (@Jim_Jordan) August 7, 2023
On Friday, 25 House Democrats proposed a 1,000 percent excise tax on so-called assault weapons and large capacity magazines, according to Fox News.
The bill was sponsored by Rep. Don Beyer of Virginia and 24 other Democrats. Republicans control the House with a narrow majority.
Beyer proposed a similar bill last year that put the 1,000 percent excise tax on anything that was or was part of a semiautomatic weapon that could hold more than 10 rounds of ammunition.
His bill came one day after more than 100 Democrats of the Gun Violence Prevention Task Force wrote House Speaker Kevin McCarthy to say they were miffed not a single gun control bill had been voted upon during this session.
The provision would force anyone who makes money selling guns to get a federal license and conduct background checks. The current regulatory landscape requires only federally licensed dealers to conduct background checks and defines a dealer as someone who makes his livelihood selling firearms.
President Joe Biden in March issued an executive order to put the new provision in the fast lane.
The Times reported that the Justice Department and the Bureau of Alcohol, Tobacco, Firearms and Explosives are working on the new rule, with an expected completion date in the latter part of 2024.
The Times said the new provision "could set a threshold number of transactions that would define a dealer; gun-control groups hope to see it at five sales a year or lower. The rules will be backed up by a renewed push to prosecute businesses that refuse to register, by accessing bank records, storage unit leases and other expenses associated with running an off-the-books gun business."
Source: thegatewaypundit.com
---
War
Niger coup deadline expires: Air space closes as Junta refuses to reinstate president
Niger has closed its airspace, after defying a deadline – imposed by ECOWAS – to reinstate the democratically-elected President Mohamed Bazoum. The West African regional bloc issued the ultimatum a week ago, demanding the generals relinquish power by midnight on Sunday, or face possible military action. In a statement, coup leaders said that any attempt to violate the country's airspace would be met with an 'energetic and immediate response'. FRANCE 24's Vedika Bahl and Charlotte Hughes explain.
Source: france24.com
---
False Flags
This is for my comedian friends who still repeat the Big Pharma lie that "Nobody Ever Said The Vaxx Would Stop The Transmission Of Covid Virus"

Here is EVERYONE saying it:

— Jimmy Dore (@jimmy_dore) August 6, 2023
TAKE A LISTEN
72% of all US deaths reported to VAERS in the 33 history of VAERS (over 70 vaccines) are from one vaccine: the COVID-19 vaccine.

Let that sink in. It's easy for anyone to verify. The CDC has been lying to you. It's not safe at all.

11,860 out of 16,396 total deaths. pic.twitter.com/VSwIE10EvR

— Steve Kirsch (@stkirsch) August 4, 2023
Reedley Chinese COVID Lab Received Tax Credit of $360,000 From Gov. Newsom's 'GO-Biz'

At the epicenter of current controversy, an illegal California lab run by a Chinese biotech firm, Prestige Biotech, was recently discovered in a warehouse in Reedley, California. The lab contained mice which were genetically engineered to spread COVID-19.

According to National Review, "court documents further showed that the Centers for Disease Control (CDC) conducted tests on the more than 800 chemicals found at the site and that over 20 infectious agents were found present, including Hepatitis B and C, streptococcus pneumonia, chlamydia, rubella, and Herpes 1 and 5." As a federal investigation is underway, where will the money trail lead us?…

A document released on March 24, 2019 by Governor Newsom's Office of Business and Economic Development, a California Competes tax credit allocation agreement of $360,000 was cemented with UMI.
Reedley Chinese COVID Lab Received Tax Credit of $360,000 From Gov. Newsom's 'GO-Biz'

CDC conducted found more than 800 chemicals at the site and over 20 infectious agents.@CaliforniaGlobe https://t.co/InUuQm0kEJ

— Katy Grimes (@KATYSaccitizen) August 3, 2023
Jazz Shaw of Hot Air adds this:
NEW – British scientists begin "developing vaccines" in a high-security laboratory complex against a "new pandemic" caused by an unknown "Disease X" — Sky News

— Disclose.tv (@disclosetv) August 7, 2023
Can't make this up! Stockton convenience store owners who put the beat down on a would-be-thief in viral video are now under investigation for assault!

America 2023, where criminals are treated as victims, and victims are treated as criminals. pic.twitter.com/InbKLDBB4o

— Charlie Kirk (@charliekirk11) August 6, 2023
---
Q
Antifa plans to shut down the Sturgis gathering says too many american and confederate flags….. I will wager every dollar I have on the biker clubs of America versus antifa pic.twitter.com/v3oUDrRUIm

— @bbowden18 (@bluestown901) August 5, 2023
.@kayleighmcenany: "Biden privately told aides that Trump should be prosecuted for January 6th and that he wanted Merrick Garland to take decisive action…

That is an explosive allegation buried in the New York Times…

Why are they silent about their own reporting that Joe… pic.twitter.com/FfrmnEfz0O

— KanekoaTheGreat (@KanekoaTheGreat) August 5, 2023
Why are they silent about their own reporting that Joe Biden wanted to see a January 6th indictment of his chief political rival?"
The same attorney who is prosecuting President Trump, let former FBI Head Andrew McCabe go free after lying under oath, and gave Imran Awan sweetheart deal.  He also is now going after Bannon and Stone after being pardoned by President Trump. 
This is the Biden-Obama corrupt and criminal DOJ.
Andrew McCabe leaked confidential investigation details and information to the media to "advance his personal interests" then lied about it to the Inspector General.
The Inspector General released a scathing report on McCabe in April 2018 stating he "lacked candor" following his illegal media leaks.
Source: thegatewaypundit.com
  Cannon struck down two of Special Counsel Jack Smith's sealed filings in her ruling today.
Judge CANNON comes out swinging at special counsel this morning, striking two of prosecutors' sealed filings and demanding an explanation of "the legal propriety of using an out-of-district grand jury proceeding to continue to investigate" the docs case https://t.co/jawTpEvPWq pic.twitter.com/OciEt2vJql

— Kyle Cheney (@kyledcheney) August 7, 2023
BREAKING: I told you Judge Cannon is legit. She is not going to tolerate Jack Smith's bullsh*t.

This is gold–she asks defense to raise possible grand jury abuse by DOJ for conducting nearly all of the investigation in DC then switching to FLA at last minute for indictment. pic.twitter.com/uu58SJc7PO

— Julie Kelly 🇺🇸 (@julie_kelly2) August 7, 2023
This relates to DOJs request for a Garica hearing — an attempt to get Stanley Woodward, Nauta's attorney, bounced from the case.

Recall Smith's lawyer Jay Bratt is accused of threatening Woodward over judgeship application if he didn't get Nauta to cooperate. pic.twitter.com/qitnrP6kSB

— Julie Kelly 🇺🇸 (@julie_kelly2) August 7, 2023
Moronic reporters and legal analysts now spinning that Judge Cannon disclosed DC grand jury still at work in Mar a Lago case when it was Jack Smith who did so in a motion filed last week. https://t.co/1XIc1U5akU

— Julie Kelly 🇺🇸 (@julie_kelly2) August 7, 2023
 Source: thegatewaypundit.com
Fulton County DA Fani Willis's "investigation" into the 2020 Election in Georgia has sent the Mockingbird Media into a frenzy and will likely lead to the 4th indictment of President Trump once another juicy Biden story is disclosed.  "
source: thegatewaypundit.com
I purposely didn't comment on Nancy Pelosi's very weird story concerning her husband, but now I can because she said something about me, with glee, that was really quite vicious. "I saw a scared puppy," she said, as she watched me on television, like millions of others, that didn't see that. I wasn't "scared." Nevertheless, how mean a thing to say! She is a Wicked Witch whose husbands journey from hell starts and finishes with her. She is a sick & demented psycho who will someday live in HELL!
NO WAY I CAN GET A FAIR TRIAL, OR EVEN CLOSE TO A FAIR TRIAL, IN WASHINGTON, D.C. THERE ARE MANY REASONS FOR THIS, BUT JUST ONE IS THAT I AM CALLING FOR A FEDERAL TAKEOVER OF THIS FILTHY AND CRIME RIDDEN EMBARRASSMENT TO OUR NATION, WHERE MURDERS HAVE JUST SHATTERED THE ALL TIME RECORD, OTHER VIOLENT CRIMES HAVE NEVER NEEN WORSE, AND TOURISTS HAVE FLED. THE FEDERAL TAKEOVER IS VERY UNPOPULAR WITH POTENTIAL AREA JURORS, BUT NECESSARY FOR SAFETY, GREATNESS, & FOR ALL THE WORLD TO SEE!
James Woods has always been a great ally for Trump
Trump 2024
11.3 means the enemy occupation is over. #LawOfWar pic.twitter.com/NggijYs4TH

— The Rubber Duck ™ (@TheRubberDuck79) August 7, 2023
Defense Department Updates Its Law of War Manual
Today, the Department of Defense (DoD) released an important update to its Law of War Manual.
The Manual provides authoritative legal guidance for DoD personnel in implementing the law of war and executing military operations. It reflects America's long and deep tradition of respect for the rule of law and the law of war. This is the third update to the Manual since it was first issued in June 2015.
The updated Manual substantially enhances the discussion of what the law of war requires when determining whether a person or object is a lawful target in planning and conducting attacks. It describes the legal duty to presume that persons or objects are protected from being targeted for attack unless the available information indicates that they are military objectives.
The Manual also includes a new section discussing the obligation to take feasible precautions to verify that potential targets are military objectives, including providing examples of common precautionary measures. The update affirms that the law of war does not prevent commanders and other personnel from making decisions and acting at the speed of relevance, including in high-intensity conflicts, based on their good-faith assessments of the information available at the time.
"As Secretary Austin has said, 'there are still rules in war.' Secretary Austin has rightly insisted that we make every effort to protect civilians and mitigate civilian harm during armed conflict. Protection of civilians is vital to the success of our military operations keeping America safe — and doing so is both a moral necessity and a strategic imperative," said Caroline Krass, Department of Defense General Counsel. "This updated version of the Department's Law of War Manual provides greater clarity on the requirements of the law of war that are critical for protecting civilians and civilian objects during military operations."
The Department will continue to update the Manual to provide DoD personnel with the best possible resource for understanding and complying with the law of war.
The updated Manual is publicly available at www.defense.gov.
TAKE A LISTEN
Good Morning !

no evidence = there's a huge pile of evidence
conspiracy theory = the stone cold truth
baseless claims = legitimate concerns
election denier = reasonably suspects election fraud
election denier fringe = majority (62%) of all likely voters pic.twitter.com/KKTXdxgbCT

— Rasmussen Reports (@Rasmussen_Poll) August 7, 2023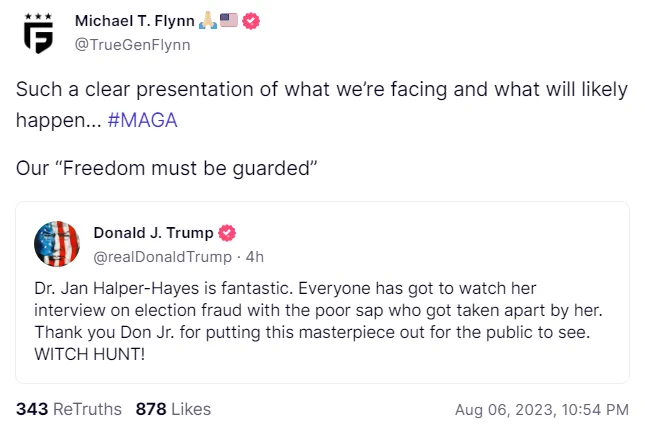 Hot damn.
Did Trump just affirm that Space force does, in fact, have everything and that we are only going through this because Trump didn't want a civil war to break out before the people were ready? pic.twitter.com/bztdFBFYYT

— Green Lives Matter (@Ultrafrog17) August 7, 2023