Podcast: Download (Duration: 1:23:46 — 35.7MB)
Watch The X22 Report On Video
The people in the UK are seeing the economic illusion of inflation, the manufactures are shrinking products hoping the people do not notice. The statistical inflation numbers are dropping but the prices for everyday goods are increasing, illusion exposed. Russia is now signaling it will help the BRICS go to gold. The [DS] is doing everything in their power to piss off the American people, the patriots are using this to their advantage. The [DS] wants a civil war, they want the people on the streets. The patriots want antifa, BLM, illegals and criminals in the streets so they can be rounded up. The [DS] believes they can incite a rebellion, the patriots are counting on this.
---
Economy
More than 80% of shoppers concerned about supermarket 'shrinkflation' – survey
Some 18% of consumers reported switching to brands which had not changed their sizes.

F

our-fifths of shoppers are worried about supermarket "shrinkflation" and are turning away from their favourite brands as a result, according to a survey.
Some 81% of consumers said they were concerned about buying smaller-sized items at original prices, with 29% buying their favourite product less often as a treat, and 18% switching to brands which had not changed their sizes, Barclays found.
In June, 70% of Britons had noticed examples of shrinkflation, up from 65% in May – particularly when buying chocolate (46%), crisps (42%), packets of biscuits (37%) and snack bars (32%).
Shoppers also reported seeing shortages of certain products at the supermarket, with 37% noticing that some basic items including eggs, fresh produce and tinned staples were regularly unavailable.
Source: standard.co.uk 
Source:https://t.co/RC4dSfk6zT

— Wall Street Silver (@WallStreetSilv) July 12, 2023
US Consumer Price Inflation Drops To 27-Month Lows; Longest Streak Of Declines Ever
Expectations for this morning's headline CPI print were for a plunge from 4.0% YoY to 3.1% YoY (due to shelter, used-cars, and seasonals); however, what The Fed will be watching for is Core Services CPI Ex-Shelter, which fell to +3.93% YoY – the lowest since Jan 2022…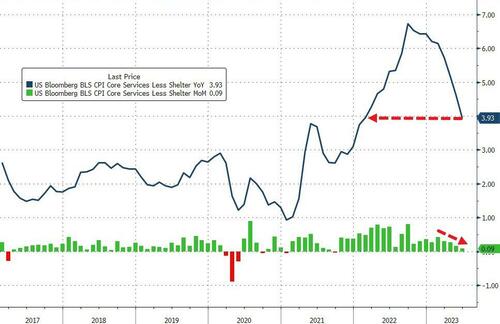 Source: Bloomberg
Notably the MoM increase in Core Services CPI Ex-Shelter was just 0.09% – the smallest MoM rise since Sept 2021.
The headline CPI rose just 0.2% MoM (below the 0.3% MoM expected) which dragged the headline down to +3.0% YoY (cooler than expected) – the lowest since March 2021..
Source: zerohedge.com
now for the bad news pic.twitter.com/yOsY8YOKly

— StockCats (@RealStockCats) July 12, 2023
De-dollarization explained with a #gold BRICS currency.

🔊 https://t.co/gmcEl1LX4M

— Wall Street Silver (@WallStreetSilv) July 12, 2023
The institutions are coming to #Bitcoin pic.twitter.com/Q6pW8Tqy6Z

— Bitcoin Magazine (@BitcoinMagazine) July 12, 2023
---
Political/Rights
I didn't leave the Democrat Party.

The Democrat Party left ME when it embraced left-wing radicalism, lawlessness, and put the interests of illegal aliens over the interest of Americans.

I have nothing to apologize for.

— Rep. Mesha Mainor (@MeshaMainor) July 11, 2023
The media calls this a "fringe conspiracy theory," but a plurality of Americans agree, nonetheless.

Also, 59% of Americans agree that the media are "truly the enemy of the people."

Only 36% disagree. https://t.co/w4bOdA3xib

— Rasmussen Reports (@Rasmussen_Poll) July 12, 2023
Sotomayor's wealth has skyrocketed since joining Supreme Court, raising ethics concerns
Obama-nominated SCOTUS justice has seen net worth spike during tenure on high court
Sonia Sotomayor's net worth has increased significantly since joining the nation's highest court, according to financial disclosure forms amid new revelations about the Supreme Court justice's efforts to promote her books.
Sotomayor was nominated by then-President Barack Obama to join the Supreme Court in 2009. At the time, her wealth was a small fraction of what it is now.
In 2007, the sum of Sotomayor's total investments was between $50,001 and $115,000, according to her financial disclosure form for that year. She reported only two assets: a checking account and a savings account, both at Citibank.
In 2008, Sotomayor's financial disclosures show she had the same two assets, this time totaling $15,001 to $65,000. The following year, during which Sotomayor was both nominated and confirmed to the Supreme Court, she held the same investments for the same range of value.
Since then, Sotomayor's net worth has skyrocketed, putting her among the ranks of the nation's millionaires. In 2021, her investments totaled somewhere between $1.5 million and $6.4 million, according to financial disclosure forms. Last year, investments were roughly the same, in between $1.6 million and $6.6 million.
Sotomayor's yearly salary was about $180,000 as a federal appeals court judge before Obama nominated her, supplemented by about $25,000 a year from teaching at New York-area law schools. That salary went up several thousands of dollars upon becoming a Supreme Court justice.
Source: foxnews.com
Secret Service declines to honor records request for White House cocaine docs
The U.S. Secret Servic   declined to honor a Freedom of Information Act (FOIA) request for communications related to its investigation of the cocaine found at the White House, saying that to release those materials would compromise the investigation.
Bloomberg investigative reporter Jason Leopold posted the response from the Secret Service to his request, in which the agency stated that "disclosure could reasonably be expected to interfere with enforcement proceedings."
The rest of the letter outlined Leopold's options to challenge that determination but offered no other explanation for the agency's refusal.
Source: justthenews.com
Democrats fail to mention that the Bidens received millions from CEFC, the same CCP-linked company that paid Gal Luft.

Hunter & Joe Biden even planned to share an office with CEFC.

If Democrats deem Luft as untrustworthy because he got money from CEFC, then why should we trust… https://t.co/VC3ZOXxMNr

— Oversight Committee (@GOPoversight) July 12, 2023
DOJ Reverses Previous Support For Trump Immunity In E. Jean Carroll Defamation Lawsuit
The Department of Justice does not believe former President Donald Trump was immune from civil action as a public official when he allegedly made defamatory statements against author E. Jean Carroll in 2019 and will therefore not defend him.
The decision marks a U-turn for the DOJ, which had previously defended Mr. Trump in a lawsuit filed against him by Ms. Carroll in 2019.
In its previous decision, the DOJ had cited the Westfall Act, which protects federal workers from common law tort lawsuits when they are engaged in the duties of their jobs, and said Mr. Trump was acting in the scope of his employment as president when he made a series of public statements denying he raped Ms. Carroll.
Lawyers for Mr. Trump, who have unsuccessfully attempted to dismiss the lawsuit, have also argued he should be granted absolute presidential immunity in the case.
However, in a July 11 letter (pdf) to the attorneys for Mr. Trump and Ms. Carroll, Principal Deputy Assistant Attorney General Brian Boynton said the DOJ is now reversing its previous decision as it can no longer conclude Mr. Trump was acting in his capacity as president when he made the allegedly defamatory statements about Ms. Carroll.
Source: zerohedge.com
Page 1: The DOJ will not defend me in the E. Jean Carroll civil case, which is all part of the political Witch Hunt, lawyered up by a political operative who I just beat in another case, financed by a big political funder, and "judged" by a Clinton appointee who truly hates "TRUMP." The statements that I made about Carroll are all true. I didn't Rape her (I won that at trial) and other than for this case, I have NO IDEA WHO SHE IS, WHAT SHE LOOKS LIKE, OR ANYTHING ABOUT HER….
Page 2: The Carroll civil case against me is a Miscarriage of Justice and a total Scam. The trial was very unfair, with the other side being able to do and present virtually anything they wanted, and our side being largely and wrongfully shut down by an absolutely hostile, biased, and out of control judge. My lawyers, due to their respect for the Office of the President and the incredulity of the case, did not want me to testify, or even be at the trial…..
Page 3: The net result of this horrible INJUSTICE, where a completely unknown to me woman made up a ridiculous story, wrote it in a book to increase publicity and sales, I correctly disputed the story and got sued for Defamation, whereupon a hostile Judge and Jury shockingly awarded a woman who I don't know, have never known, and don't want to know, $5,000,000, while at the same time throwing out the Fake Rape claim. WE ARE STRONGLY APPEALING THIS TRAVESTY OF JUSTICE!!!
Video Resurfaces of Tim Ballard Meeting Up With President Trump At White House to Discuss Child Trafficking At Southern Border 
A video of Tim Ballard, the founder of the anti-sex trafficking non-profit Operation Underground Railroad, meeting up with President Trump has gone viral in recent days.
The video from 2019 has resurfaced just days after Sound of Freedom  hit number one in the box office.
In the new resurfaced video of Ballard meeting up with Trump, Ballard discusses how children are being trafficked along the Southern Border.
Ballard told Trump "They brought this little girl through a part of the Southern Border where there was no wall. Easily got her to New York City and this is hard to hear but this is the truth." 
Ballard continued "This little girl was raped for money everyday 30 to 40 times a day."
While many people in D.C. have dismissed Ballard and his effort to put an end to child trafficking, Trump listened intently to what the O.U.R. founder had to share.
WATCH:
A little unknown fact is that Trump even appointed Ballard in 2019 to the White House Public-Private Partnership Advisory Council to End Human Trafficking.
Before his meeting with Trump, Ballard also met with Ivanka Trump and a group of Senators in 2017 to promote legislation which aimed to prevent human trafficking.
LOOK:
Source: thegatewaypundit.com
Kash Patel says he worked with Sound of Freedom's Tim Ballard at the Trump White House and reduced human and sex trafficking border crossings by up to 50% 💥 pic.twitter.com/6vBhj9T8GR

— Patri0tsareinContr0l (@Patri0tContr0l) July 12, 2023
Suspected pedophile and former fashion mogul Peter Nygard was arrested on more sex crime charges, this time for a 1993 case in which he's accused of sexually assaulting a 20-year-old at his company's headquarters in Canada.
Winnipeg, Manitoba, police obtained an arrest warrant on Monday for city native Nygard, 81, after months of investigation into the 30-year-old case.
Source: nypost.com
---
Geopolitical/Police State
---
War
North Korea Launches 1st ICBM In Months As Regional Leaders Attend NATO Summit
Just days after threatening to shoot down US spy planes based on allegations over violated airspace, North Korea launched its first intercontinental ballistic missile (ICBM) in months on Wednesday.
Crucially the ICBM had a very long flight, with Japanese Chief Cabinet Secretary Hirokazu Matsuno indicating in a statement it flew for 74 minutes, which is being widely reported as the longest flight time recorded by any weapon launched by Pyongyang.
Source: zerohedge.com
The Island of Taiwan has been turned into a "powder keg" by the infusion of U.S. weaponry, pushing the Taiwanese people into the "abyss of disaster."

  

These are the words of the Chinese Defense Ministry in reaction to the recent $440 million sale of U.S. arms to the island. And now the U.S. is also giving, not selling, arms to Taiwan, courtesy of the U.S. taxpayer.
The "First Island Chain" Strategy of the U.S.
Clearly, the arming of Taiwan is a provocative act that pushes the U.S. closer to war with China, a nuclear power.
The Secessionist Movement in Taiwan
According to the One China Policy, the official policy of the U.S., Taiwan is part of China. The UN took the same position in 1971 with passage of Resolution 2758 (also known as the Resolution on Admitting Peking) which recognized the People's Republic of China (PRC) as the legitimate government of all of China and its sole representative in the UN.
Source: antiwar.com
MORE BIDEN HUMILIATION: World Leaders Reach Over Joe Biden's Shoulder to Shake Zelensky's Hand at NATO Summit (VIDEO)
Joe Biden on   attended the NATO Summit in Lithuania after skipping a major dinner Tuesday night.
He was also invisible to other world leaders.
The world leaders in attendance do not respect Joe Biden.
At one point world leaders reached over Joe Biden's shoulder to shake Ukrainian President Volodymyr Zelensky's hand!
The ultimate humiliation on the world stage.
The look on Biden's face says it all.
WATCH:
Source: thegatewaypundit.com
Corrupt Politicians/NATO says If Ukraine Joins it will start a war with Russia
Was this just setup for some type of an event. 
We didn't have Ukraine join NATO we averted war, DS provokes Russia, Russia does something and the DS points the finger at Russia for starting the war. 
Biden Says Ukraine Should Join NATO 'An Hour And 20 Minutes' After The War Ends
President Joe Biden said  that Ukraine should be allowed to join NATO "an hour and 20 minutes" after the war with Russia ends.
Source: dailycaller.com
Joe Biden should not be dragging us further toward World War III by sending cluster munitions to Ukraine—he should be trying to END the war and stop the horrific death and destruction being caused by an incompetent administration….

donaldjtrump.com/news/170c1408
If America falls, the World falls. God bless our brave fighting men & women.
They deserve our deepest gratitude.
Through their strength, and the millions of united Patriots around the World, we will succeed in this fight.
PEACE THROUGH STRENGTH.
Now comes the pain.
Q
---
Cyber Attacks
---
False Flags
This is the craziest thing I've seen in a long while. I said earlier today that the two Slack messages on Covid origin released by GOP ended all debate.

Well, @franciscodeasis has found even worse messages buried within the PDF which GOP apparently meant to hold back for later. https://t.co/yK5vnjCqja pic.twitter.com/1pOx1dLREe

— Hans Mahncke (@HansMahncke) July 12, 2023
And here's Proximal Origin fraudster Robert Garry admitting that Covid was "probably" made in a lab. pic.twitter.com/cUHih28mBs

— Hans Mahncke (@HansMahncke) July 12, 2023
And here's Kristian Andersen again, this time admitting that doing gain-of-function experiments at biosafety level 3 is "completely nuts" (the Wuhan lab actually did them at even lower biosafety level 2). pic.twitter.com/oTTAshMfPT

— Hans Mahncke (@HansMahncke) July 12, 2023
And here's Kristian Andersen privately admitting that "For the SARS GOF studies they created a reverse genetics system for their bat virus on a whim". Publicly, he used the exact opposite argument to push Fauci's fraudulent natural origin narrative. pic.twitter.com/GfYgbYMrF6

— Hans Mahncke (@HansMahncke) July 12, 2023
Proximal Origin fraudster Andrew Rambaut: "The truth is never going to come out (if escape is the truth)." pic.twitter.com/VeXVXVad2L

— Hans Mahncke (@HansMahncke) July 12, 2023
Dr. Fauci encouraged the creation of the Nature Medicine article he later cited to discredit the lab leak theory. pic.twitter.com/KVk1rRpK4x

— Oversight Committee (@GOPoversight) July 11, 2023
The Food and Drug Administration (FDA) is under fire for stonewalling medical information requests from investigators seeking to ascertain whether the agency is obfuscating any connection between mRNA Covid vaccines and premature deaths in younger Americans.
Jessica Adams, one researcher with over a decade covering FDA advisory panels according to her personal biographical information, revealed her recent experience attempting to get critical information from the public health agency.
"On July 4th, I submitted a FOIA request to FDA to obtain that status and ideally the results of studies that were required to assess subclinical myocarditis with the mRNA COVID vaccines," Adams wrote on Twitter.  
"Here is what I stated in this regard: 'There is now data from Korea that some vaccine myocarditis cases are resulting in sudden death with no clinical myocarditis recorded (COVID-19 vaccination-related myocarditis: a Korean nationwide study). This requires an urgent accounting of subclinical myocarditis, because individuals in the U.S. will be subjected to mandates on these products again in 1-2 months (e.g. college mandates, mandates on young people working in health care)."
"This constitutes an imminent threat to the health of these individuals, and by not releasing the information requested, the FDA is putting the public health at harm," Adams continued. "These Post Market Commitments (PMCs) were required by the FDA and there has been a large delay that is unexplainable. The fact that Korea has identified 8 cases of vaccine myocarditis leading to sudden death not otherwise recorded in their vaccine safety surveillance systems, and the U.S. has accounted for zero vaccine myocarditis deaths despite a vastly larger population, represents an urgent and imminent threat to young people who may be mandated to take this vaccine, if in fact subclinical myocarditis is a known concern."
"While unvaccinated young people during the height of covid received benefit from the vaccine, any benefit from these vaccine boosters is much lower given prior immunity, prior vaccination, and low prevalence – therefore, subclinical myocarditis would represent a threat to the risk/benefit balance that has to be sorted out immediately, prior to fall mandates," she added.
"Unfortunately, the FDA has denied my request for expedited processing, stating that I did not demonstrate the necessary compelling need," she noted. "It's time for the public and the media to demand transparency from the FDA on this issue, which is important to consider before the next vaccine campaign. It's also an important matter of principle for the FDA to follow-up on PMCs with significant interest to the public and to Public Health."
Source: beckernews.com
City employees in San Francisco are prohibited from using city resources to cooperate with any ICE investigation, detention, or arrest relating to an illegal immigration case. The city also prohibits ICE from placing holds on local prisoners so they can be deported upon their release from jail.
San Francisco is a sanctuary city — and Honduran drug dealers are loving it
The Tenderloin district in San Francisco has long been a hub for homelessness, drug use and drug dealing.
"The reason is because, in San Francisco, it's like you're here in Honduras," a dealer told the San Francisco Chronicle. "The law, because they don't deport, that's the problem. … Many look for San Francisco because it's a sanctuary city. You go to jail and you come out."
Working for Mexican drug cartels, the Hondurans, or "Hondos", operate open-air markets in the in San Francisco's notorious Tenderloin and South of Market neighborhoods, where they have squeezed competition out through their highly-coordinated organization and sheer numbers, according to the Chronicle.
The human toll, which have seen over 2,000 in San Francisco die due to fentanyl overdoses since 2020, apparently takes a back seat to protecting illegals from the feds.
The "Hondos" rarely face consequences. Only six percent of those charged for dealing drugs in San Francisco between 2018 and 2022 have been convicted. The remainder are still being processed, or ended in plea deals with lesser charges, dismissals or diversion programs, the Chronicle found. On average, the outlet found, jail sentences for drug dealing lasted just 168 days.
"Progressive prosecutors have justified their lenient treatment of foreign drug dealers by arguing that many of them are forced into the trade by gangs," National Review's Caroline Downey noted.
In its in-depth investigation into how Honduran nationals are playing a dominant role in San Francisco's drug crisis, the Chronicle noted that some dealers owe money to coyotes who smuggle illegal immigrants across the border. Without a stream of income their families could be put in danger of facing retaliation from their creditors.
Source:  worldtribune.com 
America's Largest Teachers Union Backs Radical LGBTQ+ Indoctrination Initiative With Total Support From Biden White House
The nation's largest teachers union, the National Education Association (NEA), already made headlines this week by adding sexually explicit "Gender Queer" to its summer reading list.
Now the NEA's attempts to indoctrinate children are even more out in the open after the teachers union backed an initiative to implement more LGBTQ+ themes amongst educators and students.
The union's plans also have the full and complete backing of President Joe Biden and his wife, because supposedly LGBTQ+ people do not have nearly enough "support" in this country.
 from the NEA's Representative Assembly show that the new measure will further entrench groups like the trans-focused Human Rights Campaign, the trans-teen-focused Trevor Project, and the global trans education organization GLSEN into curriculum and policy.
The premise, per the documents, read that "NEA acknowledges the prevalence of discrimination and violence targeted at people who are perceived or who identify as lesbian, gay, bisexual, transgender, questioning, and intersex (LGBTQ+) resulting from anti-LGBTQ+ bias."
Upon reading the premise of the documents, two things are not clear.
First, what is this "discrimination" and "violence" the NEA is talking about. And secondly, how is anything outside of opposite sex attraction being oppressed?
Source: bigleaguepolitics.com
Parents: Flee California. Now. pic.twitter.com/QsbRGeyGEi

— End Wokeness (@EndWokeness) July 12, 2023
---
Q
Ex-Trump Attorney Predicts Jan. 6 Indictment Is 'About To Happen'
Ty Cobb, a former White House attorney under Donald Trump, on Tuesday predicted an indictment is imminent in the federal investigation into the Jan. 6, 2021, insurrection and the role of the former president related to it.
"I believe it's about to happen," Cobb told CNN's Erin Burnett.
Cobb suggested Trump could end up being a defendant, an unlisted co-conspirator or be omitted entirely from the indictment subject to further investigation.
Source: huffpost.com
FBI Director Christopher Wray was put on the spot about the bureau's involvement in January 6.
California Rep. Darrell Issa, a Republican, grilled Wray about the number of FBI agents and informants were involved in the Capitol riots.
"How many individuals were either FBI employees or people that the FBI had made contact with were in the January 6th entry of the capitol and surrounding area?" Issa asked.
"So I, I really need to be careful here talking about where we have or have not used confidential human sources," Wray replied.
"Was there one or more, was there one or more individuals that would fit that description on January 6th that were in or around the capitol?" Issa pressed.
"I believe there is a filing in one of the January 6th cases that can provide a little more information about this, and I'm happy to see if we can follow back up with you," Wray answered.
"Just want an answer," Issa said. "Was there one or more? I mean, you would know if there was at least one individual who worked for the FBI who entered the capitol on that day?"
"I can't, again, I just can't speak to that here, but I'm happy to get the court filing that…" Wray repeated.
"It's been two years and you're now, you're now come before us," Issa said. "The gentleman asked these questions, makes all kinds of insinuations and you, you nod your head yes. And then I ask you simply was there one or more? And you won't answer that."
"
Source: beckernews.com
FBI Director Christopher Wray Refuses To Answer @RepThomasMassie's Questions About The January 6th Pipe Bombs, The Bizarre Circumstances Surrounding Their Discovery And The Missing Phone Data That Could Have Helped Identify The Bomber

Rep. Massie and Rep. @Jim_Jordan sent… pic.twitter.com/liY281CXqr

— The Columbia Bugle 🇺🇸 (@ColumbiaBugle) July 12, 2023
FBI Director Wray just told me he "does not believe" there were any undercover FBI agents in or around the U.S. Capitol on January 6.

This claim has been already debunked—including by the former U.S. Capitol Police Chief.

Wray will be held accountable for this lie. pic.twitter.com/jJ4RV3PINE

— Rep Andy Biggs (@RepAndyBiggsAZ) July 12, 2023
BREAKING: Ray Epps, who has never been arrested by the FBI despite telling people on January 5 and 6 to go into the Capitol, has filed a defamation lawsuit against Fox News and Tucker Carlson for pointing that out.https://t.co/TLaI5dmpdH

— Greg Price (@greg_price11) July 12, 2023
Dear GOP candidates, this is the 2024 cycle:

-80% of GOP voters think the FBI is politically weaponized.
-80% expect cheating in 2024.
-74% say feds provoked Jan 6.
-77% say the media are the "enemy of the people."

And now, 48% of Republicans think the CIA helped kill JFK. https://t.co/w4bOdA3xib

— Rasmussen Reports (@Rasmussen_Poll) July 12, 2023
Since Biden declared "there's no there there" re his own classified docs scandal six (6) months ago, the Washington press corps has taken his word and not covered it. Complete blackout of Special Counsel Hur's probe. All the leaks and reporting coming from the Trump investigation

— Paul Sperry (@paulsperry_) July 10, 2023
Trump and his legal team did an outstanding job explaining why Judge Aileen Cannon should pause Garland's (political) trial against his boss Biden's chief political enemy.
Garland waited 28 months to indict.
Biden DOJ hasn't turned over all the evidence.
So what's the rush now?
They want a secret trial, with secret evidence.
It's obvious Biden and Garland are interfering in the 2024 presidential election.
And Jack Smith is no stranger to getting overturned unanimously by the Supreme Court.
I have an idea. Get Deranged Jack Smith to take just a "tiny" portion of the millions of dollars he is spending illegally "targeting" me, and let him go to the White House with his army of thugs to solve the Cocaine dilemma. I'd bet they already know the answer, but just in case, it could be done in 5 minutes. Is it Crooked Joe and his wonderful son, Hunter? Release the findings, release the tapes. We can't have a crackhead in charge of our Nuclear Arsenal!!!
Crooked Joe Biden's Targeted, Weaponized DOJ & FBI are a grave threat to our Democracy! They are doing Crooked's DIRTY WORK in attacking and persecuting "TRUMP," and only doing so because I am CRUSHING DeSanctimonious and Biden in the Polls. This is planned Election Interference of the highest magnitude, and used to only happen in Third World Countries. Now, sadly and terribly, it is happening right here in America, and must be stopped if our Country is to survive. MAKE AMERICA GREAT AGAIN!!!
Two-Tiered 'Justice' Intended to Incite Rebellion 
John and Nisha Whitehead over at The Rutherford Institute always write compelling essays documenting America's descent toward tyranny.   
Source: americanthinker.com
A 2008 Army War College report revealed that "widespread civil violence inside the United States would force the defense establishment to reorient priorities in extremis to defend basic domestic order and human security." The 44-page report goes on to warn that potential causes for such civil unrest could include another terrorist attack, "unforeseen economic collapse, loss of functioning political and legal order, purposeful domestic resistance or insurgency, pervasive public health emergencies, and catastrophic natural and human disasters."
Subsequent reports by the Department of Homeland Security to identify, monitor and label right-wing and left-wing activists and military veterans as extremists (a.k.a. terrorists) have manifested into full-fledged pre-crime surveillance programs. Almost a decade later, after locking down the nation and spending billions to fight terrorism, the DHS concluded that the greater threat is not ISIS but domestic right-wing extremism.
The powers-that-be want an excuse to lockdown the nation and throw the switch to all-out martial law.
This is how it begins.
As John Lennon warned, "When it gets down to having to use violence, then you are playing the system's game. The establishment will irritate you—pull your beard, flick your face—to make you fight. Because once they've got you violent, then they know how to handle you."
They are using Trump to get the people angry, the will push indictment after indictment, they want a physical war, they want the people in the streets, they want the people to battle antifa,criminals and the illegals. Trump and the patriots are counting on this.