Podcast: Download (Duration: 1:36:29 — 42.2MB)
Watch The X22 Report On Video
The high interest rates are destroying the green new deal, companies are imploding. Electric battery factory is using some energy they need the coal fire plants. New study shows the net zero plan will not work. Credit card losses are on the rise and commercial real estate loses are on the rise. Thomas Jefferson said banking establishments are more dangerous than standing armies. Everything is about to change. The [DS] is pushing everything they have at Trump, the Judge in the NY case has gagged him. The people see what is happening and the people see the truth. More and more people will side with Trump, the [DS] is campaigning for Trump. Trump continually says that this is the final battle, the people must see it all play out and they must make the final decision, 2024 is going to get very bumpy.
---
Economy
Green Energy Stocks Rocked by High Interest Rates
The S&P Global Clean Energy Index, which comprises 100 of the biggest companies in green energy, has dropped over 20 percent in the last two months, Financial Times reported Monday. In contrast, the oil and gas-rich S&P 500 Energy Index has grown by six percent.
 
The drop in the green energy sector continues despite tens of billions of dollars of tax credits, loans, and subsidies. According to Financial Times:
The renewable sector has been particularly vulnerable to rising interest rates because many companies agree long-term contracts, fixing the price at which they will sell energy, before developing their projects.

As global inflation has surged, green energy companies have been hit by a huge rise in costs, exacerbated by growing demand for renewable projects, while elevated rates have made their high levels of borrowing more expensive to service.
Source: breitbart.com
A new electric vehicle battery factory in Kansas is demanding so much energy that the state needs to keep a coal plant open just to power it!
Japanese company Panasonic is set to receive $6.8 billion from Biden's so-called 'Inflation Reduction Act' to help put more electric vehicles on the road that nobody wants.
The Cowboy State Daily reported:
 

The Kansas City Star reports that the factory will require between 200 and 250 megawatts of electricity to operate. That's roughly the amount of power needed for a small city.

 As a result, the utility will continue to burn coal at a power plant near Lawrence, Kansas, and it will delay plants to transition units at the plant to natural gas.
The Biden Regime is FORCING electric vehicles on the American people and China controls the critical minerals needed for the car batteries.
Ford Motors has poured billions of dollars into producing electric vehicles as the Biden Regime wages war on gas-powered vehicles.
The electric vehicles have proven to be a money pit for Ford.
The Biden Regime is FORCING electric vehicles on the American people and China controls the critical minerals needed for the car batteries.
source: thegatewaypundit.com
The new onshore and offshore wind and solar installations will be much farther from customers, will thus require tens of thousands of miles of new interconnected transmission lines, in addition to numerous transformers, control rooms and other specialized technologies.
These new technologies require integrated communications and "advanced, coordinated controls" that open numerous doors to hackers, thus increasing security risks, NERC adds. In addition, the equipment and battery modules increasingly come from China, which has the ability and proclivity to embed gateways for remote control of this equipment. Once these are in place, Chinese and other hackers could easily disrupt part or all of the U.S. grid.
The U.S. electric utility industry's Electric Power Research Institute likewise concludes that the industry simply cannot reach "net zero" in generating electricity. So-called "clean electricity" sources, give electrification of much of the U.S. economy, "are not sufficient by themselves to achieve net-zero economy-wide emissions," even if coupled with greater energy efficiency.
The Federal Energy Regulatory Commission's Mark Christie recently told Congress: "The problem is not the addition of wind and solar. The problem is the subtraction of coal, gas and other dispatchable resources [that] we need during this transition…The grid has to have power being fed into it every second of every minute of every hour of every day to keep the lights on."
Another simple translation: If we don't have sufficient fossil fuel plants to come to the rescue and provide reliable juice when solar and wind are napping, the whole grid will come crashing down.
Source: thehill.com
— Genevieve Roch-Decter, CFA (@GRDecter) October 3, 2023
 The delinquency rate of commercial mortgages on office properties that had been securitized into CMBS spiked to 5.6%  
Port Of New York And New Jersey Cargo Volumes Drop 21% In August
Cargo volumes at the Port of New York and New Jersey fell 21% YoY to 662,740 TEUs in August as the seaport adjusts to lower retail volumes.
"Ahead of preparation for the holiday shopping season, U.S. retailers continued to draw from their overstock of inventory that was delivered during the record cargo surge over the past two years," the port said in a press release.

Source: zerohedge.com 
Something big is coming … The Mentions of a "Soft Landing" have Surged to Their Highest Levels.

Historically, that has preceded recessions. 🤨 pic.twitter.com/Co1C5yDJOF

— Wall Street Silver (@WallStreetSilv) October 3, 2023
 
Recently Honda established a partnership with FCF Pay, a blockchain payment system. Under the partnership, FCF pay will allow Honda's customers to lease or purchase Honda products by paying in cryptocurrencies.
Honda customers will be able to pay in more than 45 top crypto assets, including Bitcoin (BTC), Ethereum (ETH), Ripple (XRP), Shiba Inu (SHIB), Cardano (ADA), Polkadot (Dot), etc.
This shows that the adoption of cryptocurrencies in payment options is surging rapidly at a high level again and this is a sign that we are nearing the next crypto bull run.
Source:   bitcoinik.com 
"I sincerely believe that banking establishments are more dangerous than standing armies" – Thomas Jefferson

Jefferson would have been a #Bitcoin'er pic.twitter.com/RRX3CRsrBr

— The Bitcoin Conference (@TheBitcoinConf) October 3, 2023
---
Political/Rights
While the season opener on September 7 drew 27.5 million viewers and remains the most-watched game of the season, the Chiefs-Jets matchup outperformed the previous year's Week 4 game, which was watched by 22.2 million people.

Link: https://t.co/H5bReXxYuS

— unusual_whales (@unusual_whales) October 3, 2023
The memo stated, "I believe Congressman Bowman when he says this was an accident. Republicans need to instead focus their energy on the Nazi members of their party before anything else."
Bowman backtracked after the memo was leaked for using the term "Nazi" in the memo.
"I just became aware that in our messaging guidance, there was inappropriate use of the term Nazi without my consent. I condemn the use of the term Nazi out of its precise definition. It is important to specify the term Nazi to refer to members of the Nazi party & neo-Nazis," Bowman wrote.
 
Earlier this year, he called conservative commentator Michael Knowles a Nazi and then attacked the GOP.
Source: thegatewaypundit.com
Let me show you how easy it is to exit the Cannon building if doors are closed for the weekend.

No need to pull a fire alarm, you simply have to walk down some steps.

Jamaal Bowman knew what he was doing. He was trying to interrupt the vote.

Bowman needs to be arrested and… pic.twitter.com/PQuI6kk0sX

— Rep. Marjorie Taylor Greene🇺🇸 (@RepMTG) October 2, 2023
Congressman Matt Gaetz   officially filed the Motion to Vacate the Chair against Speaker Kevin McCarthy.
"Declaring the office of Speaker of the House of Representatives to be vacant. Resolved that the Speaker of the House of Representatives is hereby declared to be vacant," Gaetz said.
There will be a vote on Gaetz's motion within two legislative days after the resolution is properly noticed.
McCarthy responded: "Bring it on."
Gaetz fired back: "Just did."
Source: thegatewaypundit.com
Think about the optics here, they are showing the people how backroom deals are made, they are showing the people the swamp
Forcing a few votes and filing a few motions is not chaos.

If we continue to have $2 Trillion annual deficits, you won't know real chaos until you see where the Swamp and this uniparty are bringing us. pic.twitter.com/BRUTpDtRog

— Rep. Matt Gaetz (@RepMattGaetz) October 2, 2023
YOU ARE WITNESSING HISTORY. https://t.co/R7RabAg2KB

— Grace Chong 🇺🇸 (@gc22gc) October 3, 2023
BREAKING UPDATE: Kevin McCarthy Removed as Speaker of the House…. Here Are the Republicans Who Voted to Oust McCarthy
Hunter Biden pleads not guilty to felony gun charges in Delaware court
Hunter Biden pleaded not guilty to illegal gun possession charges during an appearance in federal court on Tuesday, marking the beginning of a new legal battle for President Joe Biden's son after his plea deal with the Department of Justice collapsed this summer.
The younger Biden, who is 53, was arraigned in the J. Caleb Boggs federal courthouse and released on a probationary status under the condition that he not use alcohol or drugs and "continue or actively seek" employment. 
The judge noted Hunter Biden would be free to travel as he pleased while awaiting his trial as long as he communicated it to the district court and that he would be subject to alcohol and drug testing.
The judge also said the first son had passed an alcohol and drug test since his last court date in July.
Source: washingtonexaminer.com
🚨 @RepJamesComer and @RepGrothman are investigating recent reports of Chinese foreign nationals breaching and accessing secure U.S. military bases and facilities.

Read the letter to Sec. Austin and FBI Director Wray👇 pic.twitter.com/AcwhSCSRX9

— Oversight Committee (@GOPoversight) October 2, 2023
Despite nobody believing it the first time, the Fake News is recycling the Atlantic's made up 'suckers' and 'losers' story from 3 years ago 🥱

Somebody get the 4 AM drop guy some new material because this is just pathetic 🤣 pic.twitter.com/sV25jf8FhC

— Patri0tsareinContr0l (@Patri0tContr0l) October 3, 2023
In 2018, Letitia James vowed to use the law as her weapon to remove Donald Trump from office, dubbing him "an illegitimate president for colluding with foreign powers."

She boldly declared, "We believe he's engaged in a pattern and practice of money laundering. Laundering the… pic.twitter.com/h9PcI1atUE

— KanekoaTheGreat (@KanekoaTheGreat) October 2, 2023
money from foreign governments here in New York State." "Understand that the days of Donald Trump are coming to an end," she emphasized, "but we can only do it if all of you exercise the most fundamental right — the right to vote."
Fast forward five years, and what's the grand finale?
Trump is accused of taking out legally obtained loans that he repaid in full with interest. Bravo! Meanwhile, in a twist worthy of a Hollywood plot, the Biden family has been on a money-laundering spree, washing millions from shady oligarchs in China, Russia, and Ukraine through a tangled web of 20 shell companies.
The Treasury Department has a hefty stack of over 170 suspicious activity reports filed by 6 banks, all spelling out how the Biden family "engaged in a pattern and practice of money laundering," with much of that foreign cash flowing right through the heart of New York City. Congratulations, Attorney General Letitia James!
NEW YORK — The judge overseeing former President Trump's New York fraud trial issued a limited gag order for all parties on Tuesday after Trump's Truth Social account made a post targeting the judge's principal clerk while she sat just feet away from him in the courtroom.
Judge 

Arthur Engoron 

issued the gag order barring Trump and any party in the case from posting or speaking publicly about members of his staff after Trump released personally-identifying information about his principal clerk on Truth Social while the hearing was underway.
The trial judge, without naming Trump, addressed the court on the matter, saying "one of the defendants" posted a "disparaging, untrue and personally-identifying post" about his staff, and though the judge ordered it deleted, it had been emailed out to "millions of other recipients."
Source: Thehill.com
The Manhattan judge deciding Donald Trump's fate at his civil fraud trial   stood by the $18 million valuation of the former president's sprawling Mar-a-Lago estate — despite real estate experts blasting the estimate as "utterly delusional."
Justice Arthur Engoron again rejected Trump's claims that Mar-a-Lago is worth $1 billion in favor of the much lower valuation issued by local Florida officials.
However, Engoron implored the media to stop reporting that he'd been the one to value the golf club and resort at $18 million — the low end of a determination made by the Palm Beach assessor that has left many real estate industry insiders perplexed.
One prominent Palm Beach real estate broker labeled the valuation "utterly delusional" to The Post.
Source: nypost.com
given false and ridiculous information by the Trump Deranged Lunatic, A.G. James. In actuality, I am WORTH FAR MORE than the numbers put down on the Financial Statements, not less. In addition, there is a far reaching and professionally drawn Disclaimer Clause boldly stated on the FIRST PAGE OF THE DOCUMENT.
This entire case should be thrown out and dismissed. The A.G. should be reprimanded and sanctioned for bringing this case with its FAKE LOW VALUES, in order to make me look bad. Election Interference!
51
Anonymous

 

ID: zGyR4tyi

 No.147643257

Anonymous

 

ID: taaOHN6t

 No.147642589


one-nation-under-god-t-shirt_design.png

ive watched as society has been effectively addicted to msm, apps, social media, games, music, all propaganda and the moment you try to open anyone eyes. you. are. shunned.
being dumbed down, weakened and groomed for passivity and stupidity through food and their addictions. like calf literally being fattened for a slaughter.and with all the race war propaganda and pizzagate possibility, i became suicidal because i cant stand that no one will open their eyes and are being manipulated hard.i hope with all of my heart that Trump is going to make good on his promise to maga and clean the swamp. ive been thinking about joining the navy for corpsman greenside, and i would love to serve under a Trump administration if he really does clean swamp, (will try to join regardless no openings for corpsman right now though). I hope that what OPanon says is true. i will be praying for OPanon and all who risk their lives, for safety and that the Lord will guide them. and praying that what he says is true. and will be praying for the spiritual edification of God for Trump and for his complete safety in all of this. The pieces are coming together for me. and if this is true, those working with him are absolute geniuses because i would have never imagined their would be any way possible to take the monster of corruption that has overtaken this country.
>>147642589
Dear Patriot.
We hear you.
We hear all Americans such as yourself.
The time has come to take back our great land.
The time is now.
Rest assured POTUS is backed by the absolute finest people alive who are all dedicated to the eradication evil and corruption from the US/World.
Find peace.
God is with us.
God bless and be safe.
-The WH
Trump Team Pushes Back On Media Claims That They 'Forgot' To Request Jury Trial In NY
 
Multiple outlets, reporters and left-leaning legal analysts repeatedly claimed that Trump lawyer Alina Habba forgot to check a box, thereby robbing her boss of the opportunity to present his case to a jury.
"The Attorney General filed this case under a consumer protection statute that denies the right to a jury. There was never an option to choose a jury trial. It is unfortunate that a jury won't be able to hear how absurd the merits of this case are and conclude no wrongdoing ever happened," the Trump spokesperson told the Caller.
 
"I have to address this one common misconception in the press, and unfortunately it just keeps getting repeated, which is that we had this great option to have a box checked for a jury. No, we didn't have that. That's not how this works. They brought it under Section 63(12), which is a very narrow, not appropriately used section of the law, which is for consumer protection," Habba said in a
According to reporters, Letitia James was too defeated to speak to the press after Judge Engoron said in closing remarks that the statute of limitations are in effect and reportedly tossed out 80% of her case.
Source: thegatewaypundit.com
The Letitia James witch hunt is backfiring in a major way. Trump is currently on every news station in the world laying out a strong case proving AG James is running witch hunts against him at the request of the Biden White House. Expect Trump's poll numbers to go up again. pic.twitter.com/bD0kR1h8DZ

— Charles R Downs (@TheCharlesDowns) October 2, 2023
  dealing with the Radical Left Democrats, Marxists, and Fascists!" Good day at trial today as the judge will be honoring the Appellate Court's unanimous decision on the Statute of Limitations! This reduces the case by approximately 80%. See you in Court on Tuesday morning!
JEFFREY EPSTEIN PLOT TWIST: A FORMER CEO FOR LES WEXNER COULD FACE SEX TRAFFICKING CHARGES IN THE UNITED STATES!

The ex-CEO of Abercrombie & Fitch, Mike Jeffries, faces allegations of exploitation from men recruited for sex events they hosted around the world.

Two former US… pic.twitter.com/pee1I1Kt4c

— LIZ CROKIN (@LizCrokin) October 3, 2023
 US prosecutors who independently reviewed documents and testimony uncovered from a BBC report have called for an investigation to determine whether charges for sex trafficking could be brought. Under US law, sex trafficking includes getting an adult to travel to another state or country to have sex for money by using force, fraud or coercion. Abercrombie was acquired in 1988 by The Limited's Les Wexner for $47 million. Jeffries served as the CEO under Wexner's ownership during the same time Epstein managed Wexner's wealth 
This was posted on Tom Hanks' Instagram page two days ago.

Anyone who has been following him since the beginning of the lockdown knows there's a lot more going on here than meets the eye.

I'd still love to know why Hanks creepily posted missing shoes and clothing items —… pic.twitter.com/oDWpAFqcmb

— LIZ CROKIN (@LizCrokin) October 3, 2023
  — including from children — regularly across his social media platforms for years among many other things! Soft disclosure?
Ohio Attorney General Dave Yost announced  the sweeping success of a weeklong statewide human trafficking operation, aptly named 'Operation Buyer's Remorse.' The operation aimed to arrest individuals attempting to purchase sex and identify survivors of human trafficking.
"Operation Buyer's Remorse" is a weeklong statewide human trafficking crackdown in Ohio. The operation was led by the Southeastern Ohio Human Trafficking Task Force and local law enforcement agencies.
"Law enforcement across Ohio teamed up in a concerted effort to stem the demand that fuels human trafficking," Yost said in a press release.
"The success of this operation is measured not only by the number of arrests but also by the resources offered to survivors of human trafficking and the intelligence gathered that will propel long-term investigations forward."
The operation resulted in 160 arrests, thanks to coordinated "stings" conducted by OOCIC's eight human trafficking and major crimes task forces. These efforts were further amplified by numerous local law enforcement agencies that also conducted anti-human trafficking operations.
Search warrants were executed at 11 massage parlors suspected of human trafficking activities as part of ongoing, long-term investigations.
Those arrested come from various backgrounds, including an EMT, nurses, educators, retirees, former law enforcement officers, self-employed individuals, and delivery drivers. The youngest person arrested was 17, and the oldest was 84.
Law enforcement officers interviewed 104 survivors of human trafficking, who were then provided services from healthcare and social service organizations.
Source: thegatewaypundit.com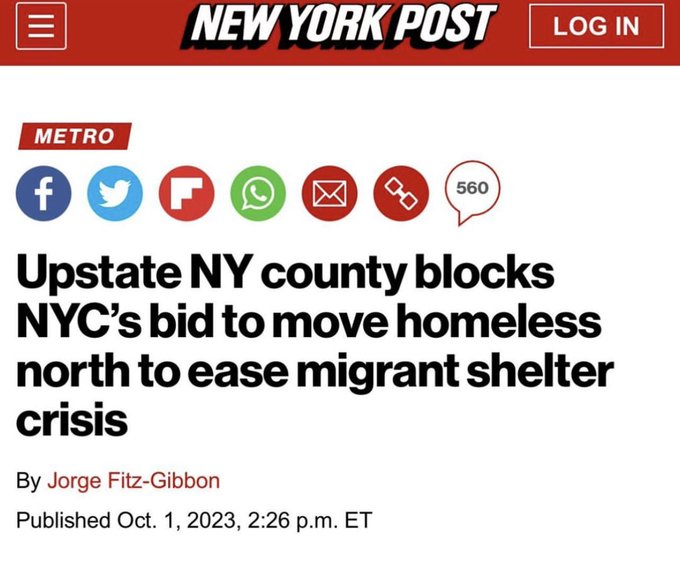 At some point the Gov of New York and the Mayor of New York City might consider asking President Joe Biden to maybe … I don't know … close the border?
"It's Broken": Bill Clinton Now Opposes NYC "Sanctuary City" Laws As Migrant Crisis Spirals Out-Of-Control
Former President Bill Clinton acknowledged   that New York City's ultra-progressive "Right to Shelter law" needs to be amended due to the migrant crisis. The open southern border policy started by the Biden administration two years ago was championed by Democrats, but now, many have 'U-Turned' and reversed their position on "Sanctuary City."
Source: zerohedge.com
---
Geopolitical/Police State
Good Morning !

Today: The CIA and U.S. News Media, happy together.

Almost two-thirds of voters believe our intel agencies are influencing news coverage of political issues. pic.twitter.com/JKRGifPXXP

— Rasmussen Reports (@Rasmussen_Poll) October 3, 2023
I live in Canada.

What is going on with this country?

This is highly disturbing. pic.twitter.com/dHijASSBnl

— Genevieve Roch-Decter, CFA (@GRDecter) October 3, 2023
A follower sent this alarming email to me

ATF is apparently warning firearms dealers about intelligence showing criminal networks plan to buy .50 cal and/or belt fed rifles in the next 2 months via straw purchasers

This is clearly due to our open border

Terrorism event soon? pic.twitter.com/6rGqFhreMI

— DC_Draino (@DC_Draino) October 3, 2023
---
War
Pentagon Warns "Months Left" In Arms Supply For Ukraine As Biden To Reassure Allies In Phone Call
President Joe Biden is planning to hold phone calls with allies possibly as early as Tuesday, with an aim of reassuring them his administration will remain committed to supporting Ukraine, Bloomberg reports.
The White House has further said it will unveil another defense package for Ukraine "soon" – which would be part of previously approved funds – in order to "signal our continued support." This comes immediately on the heels of Biden being forced by Congressional Republican holdouts to sign a stopgap funding bill that did not include aid for Ukraine.
Source: zerohedge.com
Putin Orders First-Ever Nationwide Nuclear Drill, Prepares Bomb-Test At Arctic Circle
Russia will hold its first nationwide drill simulating widespread nuclear strikes on the country, daily Magyar Hírlap writes.
The one-day nuclear attack exercise is based on the assumption that NATO will launch a nuclear strike on Russia, destroying 70 percent of Russian housing and life-support facilities. In the scenario, martial law is imposed in the country and a full-scale mobilization is ordered.
The test will also model the secondary threat posed by damage to nuclear power plants and other key facilities.
State and regional authorities will have to organize emergency rescue teams to provide food, medical supplies and protection against radiation.
According to the preparatory document, there is a need to prepare for an escalation of war, including a global conflict involving nuclear powers.
The permanent relocation of the population from the life-threatened zone will be similar to Chernobyl, involving an internal population transfer on an unprecedented scale.
Putin, meanwhile, is moving to one of his nuclear bunkers around the country to escape the simulated nuclear Armageddon. In the event of a real nuclear war, he has a fleet of "Doomsday" Il-80 Maxdome aircraft that can act as an air control center.
The exercise is being held four days before Putin's 71st birthday.
 
Source: zerohedge.com
---
False Flags
Gavin Newsom Signs Repeal Of California's COVID-19 Medical Censorship Law
 Gov. Gavin Newsom signed a bill to repeal a law that could have led to the censorship of medical advice from doctors related to COVID-19, according to a press release by New Civil Liberties Alliance (NCLA).
The law would have caused doctors to receive punishments for conveying certain COVID-19 information to their patients that deviates from the "contemporary scientific consensus," according to the press release. NCLA represents a group of California doctors who claim that the state's Assembly Bill 2098, which was signed into law in September 2022, breaches their First Amendment rights by clamping down on their freedom of speech 
A federal judge granted a preliminary injunction blocking the enforcement of the law in January, according to the press release. Newsom signed a bill to repeal the law.
Source: dailycaller.com
This was right outside the X HQ building on Market St!!

We need to put homicidal maniacs in prison. This should not need to be said.

End of story.

— Elon Musk (@elonmusk) October 3, 2023
Texas Democratic Representative Henry Cuellar was carjacked at gunpoint outside his apartment building in Washington D.C. The incident occurred Monday night and has been confirmed by multiple sources.
Three black men reportedly approached Representative Cuellar while armed and demanded his car. The attackers succeeded in getting away in Cuellar's white Honda CHR, which is registered in Texas.
n
Source: thegatewaypundit.com
In the past 24 hours:

A liberal gay reporter was shot & killed in his home in Philly

A far-left activist was stabbed to death by a deranged stranger in Brooklyn

Democrat Congressman Henry Cuellar was carjacked at gunpoint in DC by 4 black men

But the crime wave is not real

— End Wokeness (@EndWokeness) October 3, 2023
---
Q
RFK Jr. recently spoke of internal polling showing that his third-party independent run would pull more votes from Trump than Joe Biden.  Many people refused to believe the statement and demanded to see the polling.  Well, here it is:
[SOURCE]
 Source: theconservativetreehouse.com
Poll: RFK Jr. Independent Bid Would Help Donald Trump, Hurt Joe Biden 
Robert F. Kennedy Jr. running as an independent 2024 presidential candidate would help former President Donald Trump and hurt President Joe Biden in the general election, a recent Echelon Insights survey found.
A preview of the survey shows Trump leading Biden in a head-to-head presidential matchup nationally, 46 percent to 43 percent — a three-point lead. In that scenario, 11 percent remain unsure for whom they would vote.
However, with Kennedy running as an independent candidate, Trump's lead over Biden expands by one point, growing to four points — 40 percent to Biden's 36 percent. Kennedy garners 14 percent support. In that scenario, ten percent remain unsure.
Another look at the survey's cross tabs shows Kennedy ultimately taking 17 percent of Democrat-leaning voters while taking 11 percent among Republican-leaning voters. In other words, Democrats are more negatively affected by a Kennedy independent run than Republicans are.
Source: breitbart.com
Here's another one, suggesting this time RFK takes 1 point more from Biden than Trump. https://t.co/iTnSheuaTW

— Rich Baris "The People's Pundit" (@Peoples_Pundit) October 2, 2023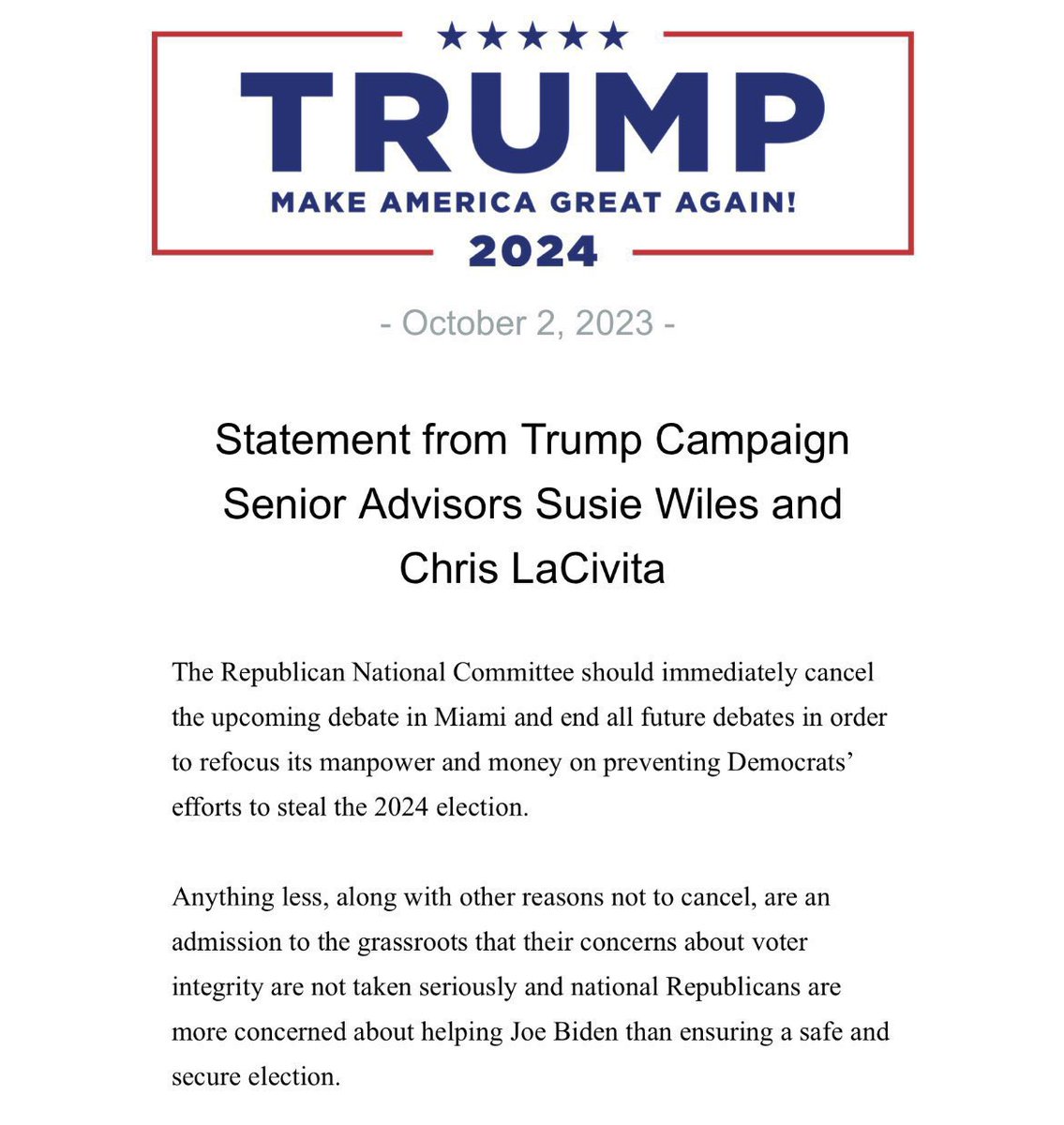 National Democrats led by far left attorney Marc Elias are suing the state of Wisconsin to block absentee voter witness requirements.
Elias and Democrats want to rid US elections of rules and procedures that prevent Democrats from cheating and stealing votes.  This is their latest action.
The current Wisconsin law requires a witness sign and address an absentee ballot envelope.  This makes it harder for Democrats to cheat.  Of course, Democrats want this eliminated.
The AP reported:
A national Democratic law firm on Monday challenged Wisconsin's witness requirements for absentee voting, arguing that the state is violating the federal Voting Rights Act by demanding a witness signature on ballot envelopes.
Source: thegatewaypundit.com
Laphonza Butler Backed Abolishing Bail for Criminal Suspects in California 
Laphonza Butler, nominated to the United States Senate by Gov. Gavin Newsom (D-CA), backed a plan to abolish bail across California for criminal suspects.
Under the law, nearly all suspects charged with misdemeanors would have been released from jail within 12 hours. Suspects charged with felonies would have been detained only after a judge used so-called "risk assessment" to determine if they would pose a danger to society pending trial.
In 2020, thanks to a statewide referendum, California voters rejected the plan by a more than 55 percent majority.
Source; breitbart.com
A month ago, I told you: Biden is in Tahoe to discuss his exit from the 2024 ticket & Kamala wants to be CA's senator again.

Suddenly Gov. Newsom picks Kamala's old campaign advisor to warm the seat for her. https://t.co/meYRuk1fhW

— Emerald Robinson ✝️ (@EmeraldRobinson) October 2, 2023
Tuesday, November 5, 2024
2024 United States Senate elections
 John Quincy Adams was elected to the House of Representatives (from Massachusetts) in 1831, two years after the end of his presidency, and Andrew Johnson was elected to the Senate (from Tennessee) in 1875, six years after the conclusion of his.
Also, though you didn't ask about this, one president, William Taft, became the chief justice of the United States after his time as president.
Class I terms run from the beginning of the 116th Congress on January 3, 2019, to the end of the 118th Congress on January 3, 2025. Senators in Class I were elected to office in the November 2018 general election, unless they took their seat through appointment or special election.
Democrats
Baldwin, Tammy (D-WI)
Brown, Sherrod (D-OH)
Cantwell, Maria (D-WA)
Cardin, Benjamin L. (D-MD)
Carper, Thomas R. (D-DE)
Casey, Robert P., Jr. (D-PA)
Gillibrand, Kirsten E. (D-NY)
Heinrich, Martin (D-NM)
Hirono, Mazie K. (D-HI)
Kaine, Tim (D-VA)
Klobuchar, Amy (D-MN)
Manchin, Joe, III (D-WV)
Menendez, Robert (D-NJ)
Murphy, Christopher (D-CT)
Rosen, Jacky (D-NV)
Stabenow, Debbie (D-MI)
Tester, Jon (D-MT)
Warren, Elizabeth (D-MA)
Whitehouse, Sheldon (D-RI)
Republicans
Barrasso, John (R-WY)
Blackburn, Marsha (R-TN)
Braun, Mike (R-IN)
Cramer, Kevin (R-ND)
Cruz, Ted (R-TX)
Fischer, Deb (R-NE)
Hawley, Josh (R-MO)
Romney, Mitt (R-UT)
Scott, Rick (R-FL)
Wicker, Roger F. (R-MS)
Independents
King, Angus S., Jr. (I-ME)
Sanders, Bernard (I-VT)
Sinema, Kyrsten (I-AZ)
"How likely is it that cheating will affect the outcome of the next presidential election?"

All Voters –
Very Likely: 30%
Somewhat Likely: 24%
Somewhat Unlikely: 17%
Very Unlikely: 24%
Not Sure: 5%https://t.co/9XqMNoYaTS

— Rasmussen Reports (@Rasmussen_Poll) October 3, 2023