Podcast: Download (Duration: 1:37:50 — 41.4MB)
Watch The X22 Report On Video
The green new deal is not going well, they want to use the covid money to pay for the climate agenda but the German constitution strikes down the plan. The economy is falling apart and the Republican are keeping the government funded which means all eyes are on Biden, [CB] and the treasury. The J6 fake insurrection is now falling apart, we now know that ghost buses were used to bus in MAGA CHS. Trump and the patriots are making the [DS] feel pain every step of the way, the more the people know the more pain they feel. Iran is going to open the door way beyond the Biden family, this will lead the people to the Obamas. Soon people will see how treasonous these people are.
---
Economy
MORE – The court ruled that the amendment to the supplementary budget for 2021 is unconstitutional. Everything related to the budget and climate policy must now be scrutinized.

— Disclose.tv (@disclosetv) November 15, 2023
Nolte: Study Shows New York Green Switch Will Skyrocket Residential Costs
New Yorkers are about to get an expensive taste of what they voted for as the state's inevitable green changeover hits their pocketbooks, per a new study.
The Empire Center for Public Policy warns that in 2030, "New York may begin a policy of forcing New York families to use electricity for home heating instead of fuels like heating oil, propane and natural gas."
The study, which is titled "In Cold Reality: The Cost and Challenge of Compulsory Home Electrification in New York," offers a ton of data to make two crucial points…
"New York's plan to steer homeowners and landlords toward electric heat could backfire due to high costs and practical concerns."
"The global effect of the costly program of compulsory electrification will be a reduction in greenhouse gas emissions of less than 0.05 percent." The study goes on to warn that in "choosing this approach, New York has closed the door on a more affordable means of reducing greenhouse gas emissions, clean fuel standards that promote biodiesel and renewable propane."
What that means is that if your water heater or furnace dies and you currently use oil, propane, natural gas, or any variation of a fossil fuel, you will be required to replace it with either an electric water heater, electric furnace, or electric heat pump.
Even though Climate Change is a hoax, you know New York Democrats will not be shy about turning these fascist recommendations into mandates. Already, Gov. Kathy Hochul is moving to ban gas stoves.
And what you're looking at is a massive and incredibly expensive changeover. Currently, only 13 percent of New Yorkers use electricity to heat their homes.
The study found that "the cost of installing a heat pump and weatherizing a home" is "$14,600 to $46,200."
The study warns that these prices, even with state help through subsidies, will push a lot of homeowners and landlords to choose cheaper electric furnaces that are less efficient and use a lot more electricity. This will result in higher monthly electric bills and much more strain on the electric grid.
And that's the other thing…
If only 13 percent of New Yorkers currently use electric heat, and your goal is to bump that number up to 87 percent in just 26 years, the stress a cold winter will put on the electric grid is incalculable.
Source: breitbart.com
Chicago Job Fair Offers 400 Jobs for Migrants as Native Black Population Suffers Rising Unemployment
Migrants were treated to a job fair in Chicago where employers were looking to offer about 400 of them jobs. Meanwhile, unemployment for city residents continues to trend upward.
The job fair was held on November 2 at the Chicago area Misericordia Home on the city's north side where nearly 500 refugees from Venezuela, Afghanistan, Pakistan, and Ukraine showed up to be courted for potential employment.
With interpreters provided for them, the migrants met with representatives in fields including health care, manufacturing, hospitality, logistics, and others.
The companies also offered help securing government services, legal papers, and even training and educational opportunities.
Source: breitbart.com
Monthly inflation numbers came in flat, sending the Dow up 500 points on a bet the Fed's done hiking.

But dig in and it turns out essentially everything went up but energy, which cancelled the rest out and which always falls in recessions. Toss in a fictitious 34% drop in… https://t.co/Ll7va60DjT

— Wall Street Silver (@WallStreetSilv) November 15, 2023
 health insurance and government statisticians managed to claw their way to flat. Strip out the games and you get core stuck at 4% for the 28th month, "baking in" future inflation for years to come.
Good Morning Everyone! U.S Retail sales fell for the first time in SEVEN months.

Seven out of 13 categories fell.

DOWN:
– Vehicles & parts
– Autodealers
– Furniture
– Building materials
– Gasoline startions
– Sporting
– General Merchandise

UP:
– Food & Beverage
– Grocery Store… pic.twitter.com/PGM2z1r3st

— Genevieve Roch-Decter, CFA (@GRDecter) November 15, 2023
MORE – Fewer Republicans than Democrats voted in favor of Speaker Mike Johnson's bill.

— Disclose.tv (@disclosetv) November 14, 2023
---
Political/Rights
This is not Beijing. This is San Francisco today. A disgrace to our nation. pic.twitter.com/P909QNpISZ

— End Wokeness (@EndWokeness) November 15, 2023
How it started: How it's going: pic.twitter.com/Lmz0z9ks2E

— End Wokeness (@EndWokeness) November 14, 2023
---
Geopolitical/Police State
Nikki Haley Takes Fire Over 'Unconstitutional' Plan To Force All Social Media Users To Be "Verified By Name"
Nikki Haley, a floated an idea to force all social media users verify their identities online in order to rid the world of 'bots' from Russia, China, Iran and North Korea (and of course, hand the US government a nice list of exactly who's saying what, and where).
"The truth is, if you look at social media, the misinformation and the dramatic sides of social media are instigating this. Why? Because it's being pushed by Russia, China, Iran, and North Korea."
"It is why when I get into office, the first thing we have to do, social media accounts… social media companies, they have to show America their algorithms. Let us see why they're pushing what they're pushing. The second thing is every person on social media should be verified by their name," said Haley, whose real name is Nimarata.
Watch:
The First Amendment to the United States Constitution protects the right to free speech,

 and this right extends to online speech.

 This means that,

 in general,

 you have the right to post on social media anonymously without fear of government censorship.
 "You know who were anonymous writers back in the day? Alexander Hamilton, John Jay, and James Madison when they wrote the Federalist Papers."
"They were not 'national security threats,' nor are the many conservative Americans across the country who exercise their Constitutional right to voice their opinions without fear of being harassed or canceled by the school they go to or the company they work for."
, anonymous speech has been deemed by the US Supreme Court to be protected under the 1st Amendment.  Source: zerohedge.com 
Reminder that a year ago Nimarata "Nikki" Haley accused Letitia James of leaking the names of her anonymous donors. Anonymous donations are great — but why does Haley think anonymity should only be legal when they're giving her money?
Former UN Ambassador Nikki Haley accused state Attorney General Letitia James' office of breaking tax laws by leaking the list of donors to her conservative not-for-profit advocacy group, Stand for America.
Haley, the former South Carolina governor and Trump administration ambassador who is mentioned as a potential Republican presidential candidate, referred to a recent article in Politico, which obtained a copy of an unredacted copy of Stand For America's tax return from a watchdog group called Documented.
The copy included a list of donors that is typically kept secret.
"We look at the last page from what Politico provided and it has the New York state attorney general's office stamp on it. So that office leaked it to the press," Haley told Fox News Tuesday.
The state attorney general regulates all tax-exempt charitable and not-for-profit groups that operate in New York. So it receives copies of tax filings that also go to the IRS.
Haley said she is filing a lawsuit against James' office and will call on US Attorney General Merrick Garland to investigate the state attorney general.
Source: nypost.com 
Dem-Controlled FCC Votes In Favor Of New Rules To Combat 'Digital Discrimination' In Broadband Access
The Federal Communications Commission (FCC) passed a vote related to "preventing digital discrimination" in accessing broadband internet at a meeting on Wednesday.
The FCC, which has three Democratic commissioners and two Republicans, voted along party lines in favor of a notice of proposed rulemaking Wednesday at the meeting to tackle "digital discrimination," based on President Joe Biden's 2021 Infrastructure Investment and Jobs Act. FCC Commissioner Brendan Carr asserts the rules would massively increase the commission's regulatory authority to almost all facets of internet service.  
"There's no element or component of internet service that will not, for the very first time, be subject to FCC regulation," Carr previously told the Daily Caller News Foundation. "And it does so through this lens of equity, which is a broad and sort of nearly unlimited sort of phrase in terms of the discretion the government would have."
The rules would allow the government to oversee internet facets including, "how [internet service providers (ISPs)] allocate capital and where they build, to the services that consumers can purchase; from the profits that ISPs can realize and how they market and advertise services, to the discounts and promotions that consumers can receive," Carr stated in his recent opposition to the rules.
The FCC similarly made a significant move toward reestablishing net neutrality in October by voting in favor of a notice of proposed rulemaking. Net neutrality regulations require ISPs provide equal access to all websites and content providers at the same rates and speeds, regardless of their size or content.
source: dailycaller.com
---
War
Gotta love Community Notes, a nonstop fount of disinformation. The Roy Amendment has not been enacted, and has in fact been rejected by the Senate multiple times. There is no special inspector general tracking Ukraine funds 👇 pic.twitter.com/kV8ethNiaa

— Josh Hawley (@HawleyMO) November 15, 2023
Rep. Rashida Tlaib Member Of Secret Facebook Group That "Glamorized" Hamas
  it has been revealed that 'squad member' Rep. Rashida Tlaib is part of a secret Facebook group that has "glamorized" Hamas amidst the terrorist group's ongoing battle with Israel.
The Democratic representative from Michigan belongs to the Palestinian American Congress group on Facebook, a private group not visible to non-members and not searchable on the platform. However, Fox News managed to access it.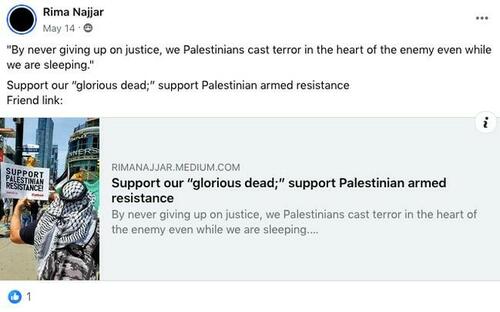 Abdel-qader, a significant fundraiser for Tlaib, has donated over $6,500 to her campaigns since 2018 and served as her finance committee chair in 2018. He was acknowledged by Tlaib with a medal in April 2018 for his campaign support.
Recently, Abdel-qader promoted a Chicago fundraiser for Tlaib and Rep. Summer Lee, emphasizing their support for the Palestinian cause.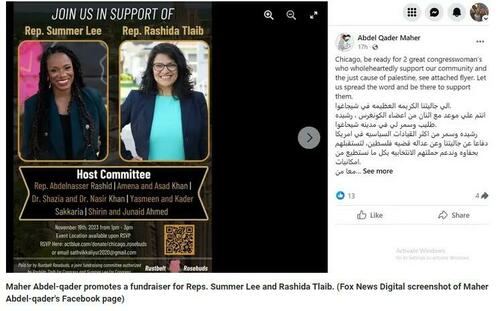 Source: zerohedge.com
Should the Palestinian group Hamas be considered a terrorist organization?

YES-
DEM: 70%
IND: 78%
GOP: 85%
All Voters: 78%

Story – https://t.co/WbgmFBhB8Q pic.twitter.com/ZiHELD1TOW

— Rasmussen Reports (@Rasmussen_Poll) November 14, 2023
Should American organizations that support Hamas be investigated by federal authorities?

YES-
DEM: 53%
IND: 56%
GOP: 70%
All Voters: 60%

Story – https://t.co/WbgmFBhB8Q pic.twitter.com/44cNjOc9Mf

— Rasmussen Reports (@Rasmussen_Poll) November 14, 2023
Netanyahu: "Calls for a ceasefire are calls for Israel to surrender to Hamas, to surrender to terrorism, to surrender to barbarism. That will not happen." Do you agree or disagree?

AGREE-
DEM: 61%
IND: 65%
GOP: 79%
All Voters: 68%

Story – https://t.co/GCgd9JQxF1 pic.twitter.com/uNSkdOS1Gy

— Rasmussen Reports (@Rasmussen_Poll) November 14, 2023
Looking at the hugely successful pro-Israel rally in D.C., AFT's Randi Weingarten beclowns herself 
Yesterday, approx 300,000 people were in Washington, D.C., to support Israel in its fight against the unrelieved evil that is Hamas. It was such an overwhelming turnout that the Washington Post had no option but to try to bury the story in its print edition lest it give people ideas.  
Source: americanthinker.com
Think it would on the front page if 290,000 people marched in support of gun control?

There's always a double standard. https://t.co/cneNfrdSXr

— Rep. Jim Jordan (@Jim_Jordan) November 15, 2023
Europe and the U.S. accepted millions who fled earlier wars.
Source: wsj.com
 the Joe Biden administration extended a sanctions waiver that will allow Iran to collect another $10 billion in funds in order for the mullahs to fund their military operations in the region.
The AP reported:
The Biden administration has extended by four months a sanctions waiver that will allow Iraq to continue to purchase electricity from Iran and gives Iran limited access to the proceeds to buy humanitarian goods.Secretary of State Antony Blinken signed the 120-day waiver extension and it was transmitted to Congress on Tuesday, U.S. officials said.
Joe Biden has now gifted the Iranian regime with $80 billion since entering the White House.
Source: thegatewaypundit.com
888
Q

 

!UW.yye1fxo

 

ID: 27d57d

 No.594016

Anonymous

 

ID: 576924

 No.593959


nov14.png

>>593825
>>593959
Thank you Kim.
Deal made.
Clowns out.
Strings cut.
We took control.
Iran next.
Q
IRAN next [].
RT days after.
RT Kenya.
No coincidences.
Track.
Important.
MB.
BOOM!!!!!!!!!!!!
Q
Ukraine, China, Iraq, IRAN, …… opens the door far beyond the BIDEN family.
How do you protect your interests [shelter from prosecution _public awareness]?
Control [infiltrate] DOJ, FBI, State, Intel, News, ……..?
---
False Flags
Should you get your Covid and flu shots at the same time? New research suggests yes
A small study indicated that getting Covid and flu shots together could produce a stronger antibody response against the coronavirus than receiving them separately.
Covid and flu shots can be safely given at the same time, and according to a small new study, doing so may even confer benefits.
Findings presented Monday at the Vaccines Summit Boston, an annual scientific conference, suggest that giving Covid and flu shots together could produce a stronger antibody response against the coronavirus than administering the vaccines separately.
The research is undergoing peer review and has not been published in a scientific journal. Ryan McNamara, the lab's director and senior author on the study, said the findings still need to be replicated in a larger group of volunteers, but he felt it was useful to share the results right away. In September, the findings were posted to the preprint server BioRxiv.
Source: nbc.com
This article is a preprint and has not been certified by peer review [what does this mean?].
Manuscripts submitted to bioRxiv are not certified by scientific peer review, edited, or typeset before being posted online. This means they may contain errors and/or omissions. Some manuscripts might be undergoing peer review, and the journals or other organizations who are responsible for this process, have the opportunity to post peer reviews alongside preprints in the article dashboard (see above).
Sen. Ron Johnson Shares the Most Censored Chart in Congressional History

Drug Adverse Event Comparison (01/01/1996 – 10/27/23):

Ivermectin – 4,265
HCQ – 28,823
Flu Vaccine – 220,346
Dexamethasone – 110,185
Tylenol – 136,079
Remdesivir – 9,290
COVID Vaccines – 1,605,764 pic.twitter.com/DA68xlW51c

— The Vigilant Fox 🦊 (@VigilantFox) November 14, 2023
TAKE A LISTEN
My amendment to end gain-of-function research funding passed tonight! It's insane to use taxpayer dollars to create a blueprint for the next pandemic. pic.twitter.com/3eWPvgZANY

— Thomas Massie (@RepThomasMassie) November 15, 2023
Source:https://t.co/kbq9TYl2Yl

— Wall Street Silver (@WallStreetSilv) November 15, 2023
New York City Mayor Eric Adams wants parents to provide security at the city's schools after safety agents who would normally provide that service were cut.
Parents are understandably outraged. Not only are they not trained to do this, but who has the time?
This is a direct result of the massive spending the city has taken on to house illegal border crossers. Adams warned that some services might be cut and now that time is here.
The New York Post reports:
  
Source: thegatewaypundit.com
---
Q
Back in November 2022, FBI Director Chris Wray testified before Congress  on threats facing US national security.
During questioning, Republican Rep. Clay Higgins asked Wray about the plainclothes FBI operatives dressed as Trump supporters inside the US Capitol prior to the doors being opened on January 6th.
Wray refused to answer the question.  Chris Wray is above the law.
 
That took place one year ago today!
This afternoon Republican Rep. Clay Higgins again had the opportunity to grill Chris Wray about the FBI operatives working inside the crowds on January 6, 2021.
Chris Wray again dodged the question and refused to respond.
THEN Rep. Clay Higgins pointed out the "ghost buses" that arrived for the January 6 protests on Capitol Hill.
Chris Wray was not ready for this!
Higgins ended with this, "Your day is coming Director Wray!"
This is a HUGE DEVELOPMENT!
source: thegatewaypundit.com
Trump Asks For Mistrial In Civil Fraud Case Due To 'Tangible And Overwhelming' Evidence Of Bias
Former President Donald Trump filed for a mistrial  in his New York civil fraud case, citing "tangible and overwhelming" evidence of bias.
Trump's 30-page motion alleges that Judge Arthur Engoron engaged in extrajudicial activities "publically commenting" in the trial and is impremissably "co-judging" with his law clerk Allison Greenfield, who is involved with "extensive, public partisan activities." He also attacked the gag orders Engoron issued barring Trump and other parties from speaking publicly about members of his staff as being imposed to prevent these issues from "becoming public."
"Such evidence, coupled with an unprecedented departure from standard judicial procedure, has tainted these proceedings and a mistrial is warranted," his lawyers said. "Specifically, the Court's own conduct, coupled with the Principal Law Clerk, Allison Greenfield's ("Principal Law Clerk") unprecedented role in the trial and extensive, public partisan activities, would cause even a casual observer to question the Court's partiality."
Source: dailycaller.com
  two separate op-eds in The New York Times and The Washington Post used the same quote from a recent TV interview Donald Trump sat for last week and stripped it of all its original and insightful meaning, purely to reinforce one of their tiresome "Democracy is at stake!" narratives.
Referencing the quote in question, Jamelle Bouie of the Times said, "Trump plans to turn the Department of Justice against his political opponents, prosecuting his critics and rivals." (Whoa! A president prosecuting his critics and rivals? Never thought I'd see the day!)
Citing the same quote, the Post's Catherine Rampell said it was "horrifying" that Trump was threatening to use presidential power "against political rivals in retaliation for their alleged persecution of him."
Both Bouie and Rampell used just a section of Trump's remarks, but here's more context:
Univision interviewer: "You say they've (Democrats) weaponized the Justice Department, they've weaponized the FBI. Would you do the same if you're reelected?"

Trump: "Well, he's (Biden) unleashed something that everybody — we've all known about this for 100 years. We've watched other countries do it and in some cases effective and in other cases, the country's overthrown or it's been totally ineffective. … What they've done is they've released the genie out of the box, you understand that. They've done something that nobody thought would happen. … They have done something that allows the next party — I mean, if somebody — if I happen to be president, and I see somebody who's doing well and beating me very badly, I say, 'Go down and indict them,' mostly that would be, you know, they would be out of business. They'd be out. They'd be out of the election."

 
The fuller answer is even more interesting, but what Bouie and Rampell omitted is that Trump wasn't making an unprovoked threat about what he plans to do if he's reelected. He was accurately describing the logical consequence of criminalizing political opposition. When the party in power falls out of it, they're vulnerable just the same.
That's called payback, and no doubt Trump and his supporters want it. But let's not leave out the details of how we got here. That's the most interesting part of the story.
Source: thefederalist.com
2494
Q

 

!!mG7VJxZNCI

 

ID: 6e0a05

 No.3978190

https://thehill.com/hilltv/rising/417761-house-gop-to-hold-hearing-into-dojs-probe-of-clinton-foundation
[D]ec 5
D5
Nothing can stop what is coming.
Nothing.
This election was not about fixing the economy, trade, borders, military, protecting our children etc. all so another corrupt politician or 'insider' can simply undo it [band-aid].
This was not simply another 4-year election, but, a crossroads in the history of our civilization that will determine whether or not, WE, THE PEOPLE, reclaim control over our gov't.
https://www.youtube.com/watch?v=G2qIXXafxC
Panic in DC.
Q