"I… want to tell President Zelenskyy never to insult Poles again, as he did recently during his speech at the UN," Prime Minister Mateusz Morawiecki said at an election rally on Friday, Polish national news agency PAP reported.
This came days after Morawiecki announced, "We are no longer transferring weapons to Ukraine because we are now arming Poland with more modern weapons." 
Zelensky had during his UN address to the general assembly in New York blasted the "political theatre" around grain imports. It was seen as a swipe at Warsaw, given he was chastising those who Ukraine sees as helping the Russian cause. The spat was very bad timing for Zelensky given he's currently in North America to rally the US and Canada behind staying the course in supporting Kiev – meaning more money, and more advanced weapons.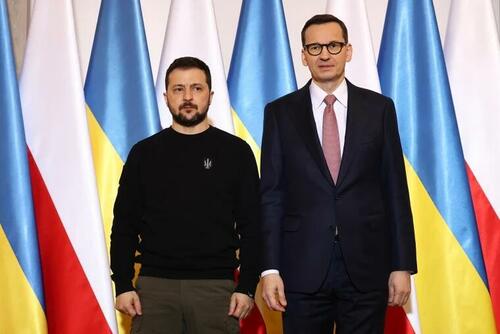 And the Ukrainian leader had more to say in Canada where he met with PM Justin Trudeau and spoke before the House of Commons: 
"You help either Ukraine or Russia. There will be no mediators in this war. By weakening assistance to Ukraine, you will strengthen Russia."

"And a powerful Russia and what to expect from it… I think history in books and witnesses has long since answered this question. If someone wants to take a risk, fine, weaken assistance to Ukrainians," he said, according to a statement posted on the Ukrainian president's website.
Poland was not mentioned directly in these comments, nor before the UN General Assembly, but the message was clear.
Still, Poland has sought to cool the ratcheting tensions with Kiev, with President Andrzej Duda saying in separate comments Friday that Poland is still a staunch supporter of the Ukrainian cause amidst the Russian invasion. 
Poland led a handful of eastern European countries, including Hungary and Bulgaria, in extending a controversial Ukrainian grain import ban which they say harms local farmers.
"I have no doubt that the dispute over the supply of grain from Ukraine to the Polish market is an absolute fragment of the entire Polish-Ukrainian relations," Duda said. "I don't believe that it can have a significant impact on them, so we need to solve this matter between us."
The Poland-Ukraine rift has without doubt contributed to a general cooling of "blank check" support to the Zelensky government, and this comes in the context of a failing Ukrainian counteroffensive. 
Still, the official Polish government position remains that it will "continue to back Ukraine's efforts to join NATO and the EU."
Loading…